BIWA 2017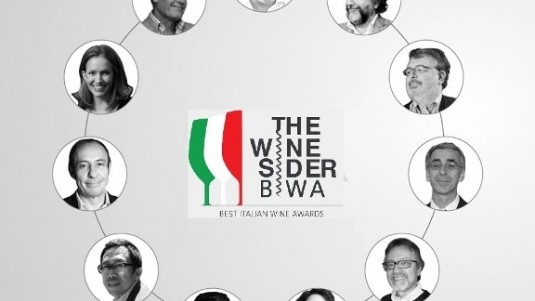 The Best Italian Wine Award is a prize that brings together a select jury of top experts from different countries who must evaluate hundreds of Italy's best wines in just three days. The winner of the 2017 edition was Oreno 2015 Sette Ponti. 
From the beginning I have been a member of the jury of the Best Italian Wine Award (BIWA) which this year was sponsored by The Winesider, a company that creates and manages wine cellars for restaurants. The brainchild of Luca Gardini and Andrea Grignaffini has been incredibly successful and the jury today, in my view, is the most authoritative so far while the wines that make up the list of the Top 50 are truly representative of Italian production.
Aside from the award's two creators and yours truly, this year's jury was composed of Tim Atkin, Christy Canterbury, Kenichi Ohashi, Amaya Cervera, Antonio Paolini, Pier Bergonzi, Luciano Ferrara and Marco Tonelli. They are all accomplished experts, some are even Masters of Wine, who for three days evaluated over 300 samples of wine in a strictly 'blind' tasting.
This year's results are listed below.
The winner of the 2017 BIWA was Oreno 2015 from Tenuta Setteponti, which will also receive the DoctorWine Special Prize dedicated to the BIWA in our Ultimate Guide to Italian Wine, which will be presented in Milan on October 1.
In the following list you will find many great Italian wines including runners-up Terlaner Rarity 1991 from Cantina Terlaner and Trentodoc Giulio Ferrari 2006.
Oreno 2015 Tenuta Sette Ponti - Toscana
Terlaner Rarity 1991 Cantina Terlano - Alto Adige
Giulio Ferrari Riserva del Fondatore Trentodoc 2006 Ferrari F.lli Lunelli - Trentino
Barolo Ravera 2013 Elvio Cogno - Piemonte
Brunello di Montalcino Tenuta Nuova 2012 Casanova di Neri - Toscana
Valtellina Superiore Rocce Rosse Sassella Riserva 2007 AR.PE.PE. - Lombardia
Bolgheri Sassicaia 2014 Tenuta San Guido - Toscana
Gewürztraminer Epokale Spätlese 2009 Tramin - Alto Adige
Trebbiano d'Abruzzo 2013 Valentini - Abruzzo
Barolo Monprivato 2012 Giuseppe Mascarello e figlio - Piemonte
Brunello di Montalcino Poggio di Sotto Riserva 2011 Poggio di Sotto- Toscana
Furore Bianco Fiorduva 2015 Marisa Cuomo - Campania
Vin Santo di Vigoleno 2007 Alberto Lusignani - Emilia Romagna
Vecchio Samperi Marco de Bartoli - Sicilia
Brunello di Montalcino Pianrosso 2012 Ciacci Piccolomini d'Aragona - Toscana
Brunello di Montalcino 2012 Biondi Santi - Toscana
Il Caberlot 2014 Podere il Carnasciale - Toscana
Vernaccia di Oristano Riserva 1991 Attilio Contini - Sardegna
Barolo Monvigliero 2013 Comm. G.B. Burlotto - Piemonte
Barolo Ciabot Tanasio 2013 Francesco Sobrero - Piemonte
Barolo Parussi 2013 Massolino Vigna Rionda - Piemonte
Taurasi Riserva Vigna Quintodecimo 2012 Quintodecimo - Campania
Barolo Margheria 2013 Azelia - Piemonte
Mossone 2015 Santa Barbara - Marche
Brunello di Montalcino Riserva 2011 Le Potazzine - Toscana
Morellino di Scansano Riserva Calestaia 2011 Roccapesta - Toscana
Gattinara Pietro 2013 Paride Iaretti - Piemonte
Montevetrano 2015 Montevetrano - Campania
Nathan 2014 Ermes Pavese - Valle d'Aosta
Barolo Parafada 2013 Palladino - Piemonte
Barbaresco Rabajà 2014 Giuseppe Cortese - Piemonte
Barolo Bricco delle Viole 2013 Mario Marengo - Piemonte
Barolo Gramolere 2013 Fratelli Alessandria - Piemonte
Brunello di Montalcino 2012 Col d'Orcia - Toscana
Arcurìa Etna Rosso 2014 Graci - Sicilia
Barolo Vigna Rionda Ester Canale 2013 Giovanni Rosso - Piemonte
Faro 2012 Palari - Sicilia
Barbaresco Pora 2014 Musso - Piemonte
Romagna Sangiovese Riserva Vigna 1922 2013 Torre San Martino - Emilia Romagna
San Leonardo 2011 Tenuta San Leonardo - Trentino
Turriga 2013 Argiolas - Sardegna
Amarone della Valpolicella Ca' del Lupo 2013 Rizzi Luigino e Claudio - Veneto
Franciacorta Cabochon Brut 2012 Monte Rossa - Lombardia
Private Cuvée Andreas Huber 2015 Pacherhof - Alto Adige
Amarone della Valpolicella Classico Riserva La Mattonara 2006 Zýmē - Veneto
Franciacorta Berlucchi Palazzo Lana Riserva Satèn 2008 Guido Berlucchi - Lombardia
Malvasia 2015 Skerk - Friuli Venezia Giulia
Castelli di Jesi Verdicchio Classico Riserva San Paolo 2015 Pievalta - Marche
Vintage Tunina 2015 Jermann - Friuli Venezia Giulia
Kamen Pietra 2015 Zidarich - Friuli Venezia Giulia