We're very happy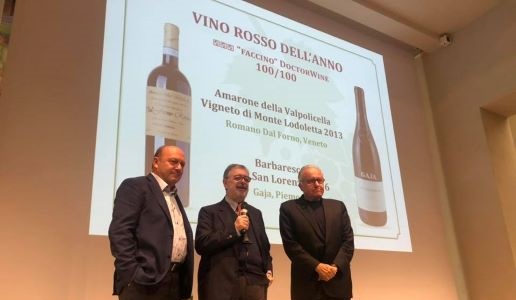 The presentation of the 2020 Essential Guide to Italian Wines was a wonderful party: as evidenced by the comments and words of gratitude that are still coming in.
For sure, it's not every day that you have two icons of Italian wine like Angelo Gaja and Romano Dal Forno on the same stage together. But this is what happened in Milan on Sunday, September 29, during the presentation of the 2020, sixth edition of the Essential Guide to Italian Wines. I know one should not talk about one's self but allow me to say that we are very happy. This because, aside from the two above-mentioned superstars, during the awards ceremony we hosted some of the most important and brilliant lead players in the world of Italian wine.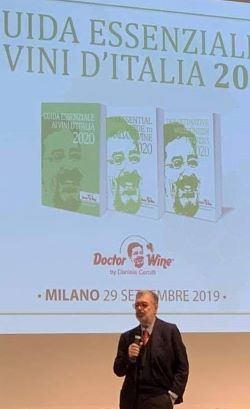 There were the presidents of the Onav, Ais and Fisar associations, respectively Vito Intini, Antonello Maietta and Luigi Terzago. Then Federico Gordini presented Milan Wine Week, which is currently in progress; Cristiana Lauro presented her new book Il Metodo Easy Wine, published by Pendragon; and Fabrizio Carrera presented his extraordinary wine and food event Taormina Gourmet. Giovanni Mantovani and Stevie Kim spoke about Vinitaly and the international initiatives of the Vinitaly international Academy; while the duo of Nicoletta Lanati and Susanna Gulinucci presented the extraordinary Food in Fashion intiative, which creates crafted booklets that combine information and texts on wine and food using fine graphics and the crafted artistic cloths with an exceptional impact. And then there were all those receiving awards, presented by many of our collaborators, with the participation of some prestigious award givers like Ruenza Santandrea, the president of the wine department at the Alleanza delle Cooperative, and Riccardo Cotarella, president of the world enologists' association.
In the middle were the likes of Alessandro Rotolo, Ruben Laurentis, Willi Sturz, Francesco Ricasoli, Gianni Testa, Paolo Turra, Alessandro Di Campli, Andrea Orsini, Pio Boffa, Salvatore Messina and Carlo Ferrini. And last but not least was Emilio Pedron, who incarnates an authentic "life for wine", as the award he received is named. Also present were many producers who wines were given a DoctorWine "seal" in the Guide, to extend that all 500 seats available were taken. In the afternoon, at the fascinating Principe di Savoia Hotel, some 1,300 people tasted over 600 wines from 218 wineries. No one had anything negative to say, the Fisar sommeliers were top-notch and many producers were at their tasting tables to comverse with the swarms of people.
It all went better than anyone could imagine and even if there is always room for improvement, I must confess that we are tired but happy and I would like to take this opportunity to thank those who worked hard to organize all this and enthusiastically participated in this initiative. In particular, I would like to thank the 80 or so wineries that, while not receiving any awards in the Guide, wanted to take part in the tasting just the same, demonstrating with their presence that they believe in our position that to be among the wineries selected for the Essential Guide is a prize in itself.
And a special thanks goes out above all to all of you who came and who follow us. DoctorWine and its Essential Guide may be two small realities but we try to work with transparency and intellectual honesty. This may seem the least we could do but it is something and it is enough for us to be simply considered for what we are, well-intentioned people who "know a little" about wine.