We pulled it off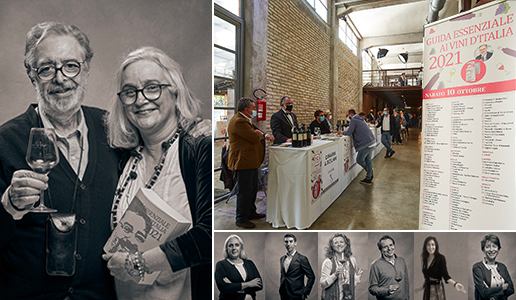 I am very proud that our small team, throwing their hearts into it, was able to pull off such a difficult task and present our 2021 guide despite the pandemic.
It wasn't easy but we did it. We were able to publish three editions of the 2021 Essential Guide, carrying out tastings, writing reviews, translating them into English and German, creating the final layouts and sending them to the printer all in the time allotted. This was possible thanks to five months of hard work on the part of everyone, the editorial staff, collaborators, translators, graphic artists, the sales and marketing department and administration.
We also produced a small book I am particularly proud of, Eating and Sleeping Amid the Vineyards by DoctorWine, which had the strong support of Paola Bacchetti, who is our new sales and marketing manager.
We then miraculously organized the presentations of these publications. First in Milan, on October 3 and 4, at the Hotel Principe di Savoia, for which I would like to thank Ezio Indiani, its manager and my old friend. Then in Rome, on October 10, at the Officine Farneto, a lovely location set in the lush landscape of Monte Mario. It was miraculous because it is very difficult to organize similar events due to the Covid restrictions. The rules are very strict, and for me rightfully so, and we respected them diligently.
All this was possible because our small team threw their hearts and souls into it and demonstrated what teamwork can do. Each one of us went beyond what was expected of them, doing more than what was they were supposed to because this was necessary in order to pull this off. I saw our graphic artist improvise and become a sommelier, our editorial assistant set glasses on the tables and unpack cases of wine, the sales and marketing manager drive trucks and unload materials, our managing editor tape up signs with the names of producers at the tasting tables and the guide's deputy editor separate wines and fill refrigerators. I, personally, brushed odd my old sommelier diploma and opened bottles, smelled their corks and filled glasses. And I even carried some cases.
The producers who took part in our initiative were well aware of the risks, how it would difficult to match the success of previous years, but they believed in us just the same and there were no regrets. For sure we had to do our best to not disappoint neither them nor those who attended the events in Milan, where we had 18 organized seminars held over a period of day and a half, and in Rome, where the event was more "normal" with tasting tables but with everyone wearing a mark which they lowered only when tasting a wine.
We would like to thank everyone for their patience and sense of responsibility.
All things considered, we can say we pulled it off. The seminars in Milan, with all participants socially distanced (as well as our collaborators who "performed" as lecturers with great generosity and competence), and all the glasses disinfected (which created some problems in regard to odors that were not perfect), saw the participation of over 800 people. In Rome, the tasting was separated into three time slots, to avoid overcrowding, and saw some 600 people take part. A lot of people but everyone was courteous, understanding and well-behaved. Their good sense and personal discipline made our job easier. There were very few questionable incidents, four or five at most, which were resolved swiftly with the always "soft" intervention of the security team.
If this was a small yet significant success, we owe it to a general sense of collaboration on the part of all of us, an example of true team spirit. I say all this because I am proud of the fact that we demonstrated how it could be done.
The immediate future will certainly be complicated and perhaps even dire, but we must remember that sooner or later, we hope as soon as possible, this nightmare will be over. We need to hang in there, work with as much commitment as possible, be careful and try to be positive, within the limits possible. I know this will not be easy but we need to try.