Tired and stressed out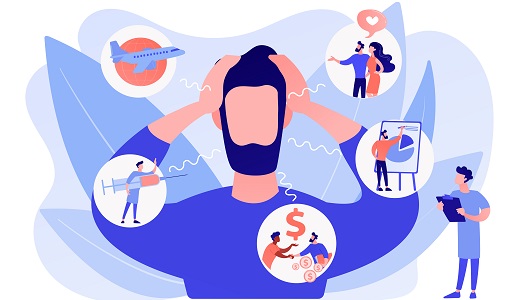 After a year, the savings we all had put aside from our sometimes miniscule activities have all but dried up. Now fatigue, concern and stress seem to have taken over.
In some countries, like Israel, Britain, the United States and, obviously, China, a tangible light would appear to be at the end of the pandemic tunnel and in some places life seems to be going back to normal. This not the case here in Europe and, since my field is wine and food, it is not up to me to explain why. Nevertheless, the sector I have focused on for many years is among those having the most difficulty, and not just economically.
The domino effect that occurred, as I had feared and had called attention to months ago, dealt the sector a cripling blow. Restaurants are on their knees, as is the hospitality sector, and those, like us, who offer services like information, promotion and event management for these categories are struggling to survive amid thousands of problems. Those involved in hospitality, tourism, food, wine production and quality prime materials are paying a high price and are not receiving, in my view, adequate attention. The same could be said for the worlds of entertainment and culture in general, which in the end play similar roles.
Those who work for themselves, who have their own activity that depends on people being able to travel, to go where they want, be it a holiday farm or theatre, have been dealt a very severe blow. Claudio Gargioli, the owner of the restaurant Armando al Pantheon in Rome, wrote something that we can agree with on the fact that restaurants will remain closed for the whole month of April. "I am at my wit's end and at my age I no longer know who I am. I should be serene having worked for a lifetime but now it seems that we restaurant operators are the cause for the spread of this horrible virus. I don't know what to say, it's all so totally absurd. We are the only ones paying the price for this situation along with those who work in entertainment, hotel operators and all those who work for the public and who have always brought such wealth and pride to this wonderful country".
After a year, the savings we all had put aside from our sometimes miniscule activities have all but dried up. There may be light at the end of the tunnel but it seems to have escaped us and fatigue, concern and stress seem to have gained the upper hand. The truth is that we've spent another Easter in lockdown. We continue to be engaged in a race against time. First of all, to keep people from dying but also to avoid the collapse of a whole sector.
There are those in the world of wine who maintain that, in the end things, things aren't that bad. Exports have held up and, all things considered, the drop in turnover is not as dramatic as feared. But this is a generalization. If you focus on details you will see that while major distribution outlets may have weathered the storm, thousands of small and artisanal enterprises are suffering greatly due to the closing down of restaurants and holiday farms. We all need to bite the bullet and hang in there, for sure, and that's what we keep telling ourselves.
Many will get through this, others will not. And it will not be because the pandemic, which showered down like hail, was their fault. This hail storm has gone on for too long.