The same old names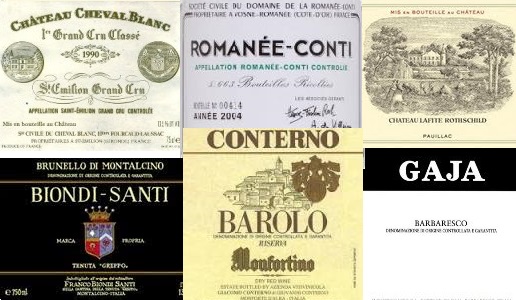 The French never hesitate to brag about their "big names" in wine. In Italy, in the best of cases, this doesn't happen to avoid being boring. But often the "same old names" are the "same best names".
The most prestigious wines in the world, the most famous wineries, especially in France, where modern wine was created, enjoy high esteem and normally they are the ones referred to when speaking of great traditions. If you look at international wine criticism and writings, wines like those of Rousseau, the great Champagnes of Krug or Bollinger and Premier Cru Bordeaux like Chateau Lafite are all considered fundamental also and above all for what they represent in regard to tradition and the prestige of their respective regions. This does not mean they are the only important wines, but they certainly are those that paved the way for others to obtain recognition because, to their merit, they are from regions like Burgundy, Bordeaux and Champagne that have achieved international fame and prestige.
The same cannot be said of Italy. Many wine lovers and critics are "fixated" on a quest for novelty at any cost, even when this as little to do with merit, and they tend to underestimate wines that even in the recent past have been fundamental in enhancing the value of areas that today are very famous. I wonder what Barbaresco would be without Angelo Gaja, or Barolo without Conterno, Mascarello and even some of the Barolo Boys, like Elio Altare or Luciano Sandrone. For me, Jermann andFelluga were very important for and in Friuli and the Kellermeisters in Alto Adige literally allowed this region to be discovered in a brilliant way, while Mastroberardino was decisive for Irpinia, the same as Marco Caprai in Montefalco, Bernetti forUmani Ronchi in the Marche region and Maurizio Zanella in Franciacorta. Not to mention Ricasoli, Antinori and Frescobaldi in Tuscany.
Others, all very talented, came later but they had a harder time gaining recognition unless someone before them had not paved the way, clearing all the obstacles ahead of them. However, if you talk or write about these trailblazers and their wines in Italy, there will always be someone who will say "how boring, always the same old names". But aren't the "same old names" those on which tradition is based? Tradition being a term that many flaunt without really understanding what it means.
Are not Gaja, Monfortino, the Brunello of Biondi Santi Italy's Romanée Conti, Lafite or Cheval Blanc?
And, above all, are we really sure that those who come later are always better than those who came before? Sometimes this could be the case but, in general, as I have been able to observe over the years, this is usually not so. And the "same old names" are more often than not "the same best names".