The best single-varietal wines 2020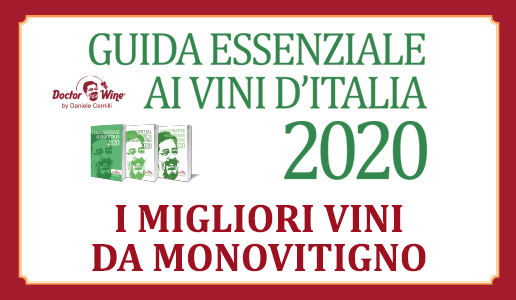 Last year we instituted this special classification and this year we expanded it to include 35 different grape varieties.
Here is the special classification that recognizes the best wines that were for the most part made from a single varietal, those among the most cultivated in Italy be they native Italian or international varieties. To be more precise, at least 85% of the wine was made from a single grape variety, as European Union law establishes, except for those cases where production regulations do not allow for higher percentages.
Aglianico Taurasi 2009, Perillo, Campania – 98/100
Barbera Barbera d'Asti Superiore Alfiera 2016, Marchesi Alfieri, Piemonte - 96/100
Cabernet sauvignon Bolgheri Sassicaia 2016, Tenuta San Guido, Toscana - 99/100
Cabernet franc Paleo 2016, Le Macchiole, Toscana - 98/100
Cannonau Cannonau di Sardegna Barrosu Franzisca Riserva 2017, Montisci, Sardegna - 97/100
Chardonnay Menfi Chardonnay Didacus 2016, Planeta, Sicilia - 97/100
Dolcetto Dogliani La Costa 2016, Quinto Chionetti & Figlio, Piemonte - 94/100
Fiano Fiano di Avellino Stilema 2016, Mastroberardino, Campania - 97/100
Friulano Collio Friulano M 2018, Schiopetto, Friuli Venezia Giulia - 98/100
Gewürtztraminer AA Gewürtztraminer Epokale Spätlese 2012, Cantina Kellerei Tramin, Alto Adige - 98/100
Glera Grave di Stecca Cent'anni 2014, Nino Franco, Veneto - 95/100
Greco Greco di Tufo 2018, Pietracupa, Campania - 95/100
Grignolino Grignolino d'Asti M 2013, Tenuta Santa Caterina, Piemonte - 95/100
Grillo Sicilia Grillo Fileno 2018, CVA Canicattì, Sicilia - 95/100
Lambrusco In Correggio Rosso Millesimato 2007, Lini - 910, Emilia Romagna - 95/100
Merlot Masseto 2016 Ornellaia e Masseto, Toscana - 98/100
Montepulciano Montepulciano d'Abruzzo Cocciapazza 2016, Torre dei Beati, Abruzzo - 97/100
Nebbiolo Barbaresco Sorì San Lorenzo 2016, Gaja, Piemonte 100/100
Nerello mascalese Etna Sciaranuova Vigne Vecchie 2016, Tasca d'Almerita, Sicilia - 97/100
Nero d'Avola Sicilia Nero d'Avola Lu Patri 2017, Baglio del Cristo di Campobello, Sicilia - 96/100
Pecorino Pecorino Supergiulia 2017, Cataldi Madonna, Abruzzo - 97/100
Pinot bianco AA Terlano Pinot Bianco R Rarità 2006, Cantina Terlano /Kellerei Terlan, Alto Adige - 97/100
Pinot grigio Friuli Isonzo Pinot Grigio Gris 2017, Lis Neris, Friuli Venezia Giulia - 96/100
Pinot nero AA Pinot Nero Wine Collection Riserva 2015, Cantina San Michele Appiano / Kellerei St. Michael Eppan, Alto Adige - 96/100
Primitivo Es Red 2015, Gianfranco Fino, Puglia - 98/100
Refosco Friuli Colli Orientali Refosco dal Peduncolo Rosso Cossut 2015, Miani, Friuli Venezia Giulia - 98/100
Ribolla gialla Ribolla Gialla 2011, Gravner, Friuli Venezia Giulia - 98/100
Riesling AA Valle Venosta Riesling Windbichel 2017, Castel Juval Unterortl, Alto Adige - 96/100
Sagrantino Montefalco Sagrantino 25 anni 2015, Arnaldo Caprai, Umbria - 97/100
Sangiovese Brunello di Montalcino Cerretalto 2013, Casanova di Neri, Toscana - 99/100
Sauvignon AA Sauvignon Rachtl Riserva 2016, Tiefenbrunner, Alto Adige - 97/100
Syrah Collezione De Marchi Syrah 2016, Isole e Olena, Toscana - 97/100
Trebbiano Trebbiano d'Abruzzo 2015, Valentini, Abruzzo - 98/100
Verdicchio Castelli di Jesi Verdicchio Classico Villa Bucci Riserva 2017, Bucci, Marche - 97/100
Vermentino Colli di Luni Vermentino Numero Chiuso 2015, Cantine Lunae, Liguria - 96/100
Related Articles
| | | | | | |
| --- | --- | --- | --- | --- | --- |
| | Le 3 Stelle DoctorWine della Guida 2020 | 24/09/2019 | Redazione | Signed DW | |
| | I Faccini DoctorWine 2020: i 95/100 | 17/09/2019 | Redazione | Signed DW | |
| | I Faccini DoctorWine 2020: i 96/100 | 18/09/2019 | Redazione | Signed DW | |
| | I Faccini DoctorWine 2020: i 97/100 | 19/09/2019 | Redazione | Signed DW | |
| | I Faccini DoctorWine 2020: i 98 - 99 e 100/100 | 20/09/2019 | Redazione | Signed DW | |
| | I tre faccini e i magnifici sette | 16/09/2019 | Daniele Cernilli | Signed DW | |
| | Vi aspettiamo a Milano il 29 settembre | 23/09/2019 | Stefania Vinciguerra | Signed DW | |
| | I migliori vini per qualità/prezzo 2020 | 25/09/2019 | Redazione | Signed DW | |