Sulfites compared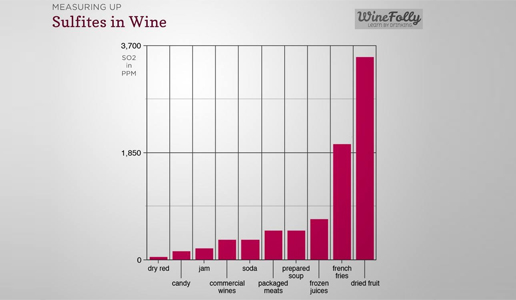 Adding sulfur dioxide to wine is a practice subject to severe and even demonizing attacks and yet wine, especially red wine, has less of it than other food products.
Let me start by saying I have no intention of defending excessively interventionist winemaking practices. Nevertheless, I was surprised when I saw the WineFolly chart that showed how red wine has one of the lowest levels of added sulfites in manmade foods. Potato chips, which we munch down in front of the TV or while on the computer, have ten times as much. And yet no one, to my knowledge, has mounted an information campaign comparable to the one against using sulfites in wine. Nor have I seen any targeted criticism of chefs like Carli Cracco or Gianfranco Vissani, not to mention pornstar Rocco Siffredi, who pitch well-knows brands of potato chips on TV. The same argument could be made regarding dried fruit and nuts, which according to the chart have the highest level of sulfites, and the same goes for seemingly innocuous ready-to-serve soups that have significantly more sulfites than wine.
No one will argue that sulfites can cause problems, especially for those who suffer from allergies, and that consuming them in excessive quantities is certainly not healthy. However, with wine it is a different story. This because in wine the alcohol acts as an antiseptic and in conjunction with the natural acidity it ensures its conservation. It was by not by chance that because of this the great Pasteur stated that wine is the healthiest and hygienic beverage which exists. If the grapes used in making wine are healthy and intact, especially in the case of red wine, the addition of sulfur dioxide can be reduced to a minimum or even eliminated because the antioxidant properties of the wine is guaranteed by the polyphenols. White wines, on the other hand, need a minimum amount of sulfites to protect them from oxygen because oxidation will slowly break down the aromatic profile of white wines above all those made from non-aromatic varietals.
The best white wine producers today keep the levels of SO2 well below 89-90mg per liter significantly limiting the risks of consuming it. It should also be remembered that a little SO2 is naturally produced during alcoholic fermentation and that the practice of using sulfur-based disinfectants in wine goes back to ancient Roman times. Perhaps, I repeat perhaps, the importance given to the using sulfites in winemaking has been somewhat exaggerated.
Josko Gravner, a top winemaker who is very respectful of nature and concerned with health, has always maintained that a limited use of sulfur dioxide is necessary to stabilize wine and thus he saw no reason why not to use it. The same has been said and done by first Edoardo and then Francesco Paolo Valenini, while cultivation according to biodynamic philosophy does not prohibit the use of sulfites in wine.
I say all this to try and clear the air and downplay the attention paid to problems that in the end are not that important. Pesticides are a whole different story as are interventions aimed at developing aromas in wines that naturally do not belong to it. The use of a little sulfites is essential to stabilize the role oxygen has in those wines that do not have sufficient quantities of endogenic antioxidants.
Since one should always be careful, I personally sharply limit my consumption of wine made from botrytized grapes, which to avoid oxidation uses a lot of sulfur, given that the aldehydes and ketones are produced combine and literally "devour" it. I remember how years ago we analyzed this aspect with the famous wine Chateau d'Yquem that had a sulfite content of close to 400mg/liter, four or five times that of a "normal" wine. Then there are some almost experimental wines that avoid using any sulfites by employing other practices that do not eliminate what it is that stabilizes wine and keeps it from oxidizing easily. But that is another story, a path that is undoubtedly doable but extremely technical.