Sassicaia and Tavernello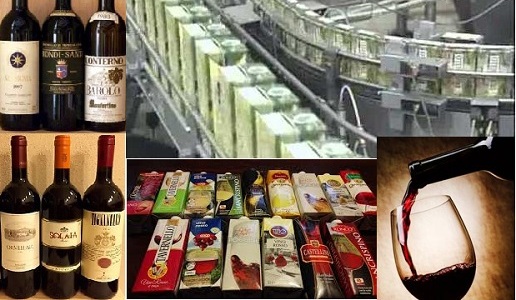 What's beautiful about the world of wine is that it is so diversified and offers so many versions, perhaps more than any other agricultural product.
People who are very passionate about wine risk underestimating the importance of its quality/price ratio, something that is an important factor for many "normal" consumers. Several years ago, a well-known market research company carried out a series of interviews of people coming out of supermarkets asking them how much they were willing to pay for a bottle of wine. Five euros was the response of 86% of those interviewed, which means that only 14% were willing to spend more.
I do not believe that things have changed much since then. This means that when we speak, write or argue on the web about wines that may cost more than 20 euros we are referring to a limited percentage of wines sold and not the vast majority that is sold or exported.
Data on overall Italian wine turnover and production shows that average production over the past five years is around 45 million hectoliters while turnover was in the neighborhood of 15 million euros. This works out to an average of just over three euros a liter. In France, that figure is around 5.5 euros, while in Spain it does not even reach two euros. Thus Italy finds itself in a relatively good position even if this is nothing to boast about and not exactly positive for those who making their living producing wine.
There are a number of negative factors contributing to this including wines sold at very low prices by industrialists and unscrupulous wine cooperatives that are acquired by discount supermarkets or importers whose marketing polices are only based on price. This could be almost acceptable if it involved wines with no specific classification, perhaps sold in cartons or boxes, which are the product of intensive winegrowing without any pretense for quality. The situation becomes much more disturbing if it involves wines that are from specific and well-known appellations.
Incidents of Soave or Barbera d'Asti sold at rock-bottom prices have recently and rightfully been condemned by many including DoctorWine. For sure these are phenomena that damage the image of entire areas of production, but they are also the result of an improper image certain DOC and DOCG classified wines have on the market and this is no small problem.
It is a phenomenon that is related to inefficient or non-existent promotional practices, an excess of red tape or sometimes of a provincial mentality, to authentic speculation and exploitation of winegrowers who can only survive because they have outside income. These negative factors have always existed and thrive thanks to the pompous rhetoric about abundant and non-existent "excellence" in wine that politicians of all colors have boasted about over the years.
The moral of the story is that if consumers want good wine at low price, then winegrowers need to be able to make a living from their activity and not be squeezed to the point that they have to abandon it, something that would be detrimental to everything, to the environment, landscape, traditions and the quality of wine offered.
To avoid this, it is essential to not excessively depress the prices of prestigious wines, first of all, but also to not overly criticize or shun wines that have as their mission meeting the demand of consumers who want to spend only a couple of euros a liter, a sector that is worldwide and very large.
What is also beautiful about the world of wine is that it is so comprehensive, perhaps more than any other agricultural product, offering both Sassicaia or Tavernello, with a full range of different products at different prices. And this, for me, it a good thing.