Robert Parker has retired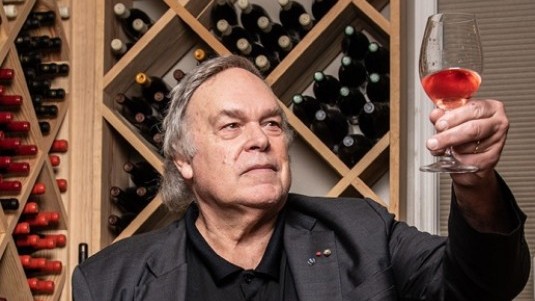 We raise our glasses in honor of someone who inspired me for many years and who I admired despite any difference in opinion we may have had. I wish him the very best to fully enjoy the outstanding wine collection he has created in his cellar.
It came as no real surprise. First there was the acquisition of a majority stake in The Wine Advocate by a Singapore investment fund, which later partnered with Michelin. Now that the French group has obtained full control, the time has come for Robert Parker to enjoy a golden retirement after over 40 years of work.
This was no small thing in the international world of wine. Parker was by far the most influential and incisive wine critic in the sector's history. He literally invented a way to evaluate and communicate the subject and was, in short, the best in his field. I met him in Boston over 20 years ago, when he was already at the top of his game, and found him to be surprisingly courteous in a simple and friendly way. And his manner never changed, according to those who knew him better and longer than I.
To be powerful but not to flaunt it is an excellent way to deal with the world. Influencing the choices of others while respecting everyone, with intellectual honesty and profound expertise, is another trait he always demonstrated. Even if you did not agree with him he would never insist on convincing you otherwise. "What I write is a reflection of my own personal convictions. If you agree, then stay with me but I would never force anyone to do so". His was a pragmatic and secular approach, that of an involuntary guru. His boundless passion for wine led him over the years to taste hundreds of thousands of wines from all over the world, to launch semi-unknown areas and turn certain established convictions upside down. Were it not for him, Pomerol, the Rhone Valley and Priorat would not have the fame and prestige they enjoy today. In regard to Italy, in the late 1970s and early '80s, Langhe producers sold a lot of Dolcetto but very little Barolo. He changed this with his reviews, making certain Barolo famous the world over and allowing these wines to have the prestige and popularity they deserved. And these included not only the wines of the Barolo Boys – Altare, Sandrone and Clerico – which he appreciated, but also the great classics of Bruno Giacosa and Giovanni Conterno.
There are those who sought to diminish his importance, ridiculing his way of evaluating a wine. In France, he was given the Légion d'Honneur and yet he was sharply criticized there for having launched "Parkerized" wines, especially those from Bordeaux. His historic esteem for certain famous winemakers, like Michel Rolland, Riccardo Cotarella or Helen Turley, was not always shared by everyone. Nevertheless, when he gave a good review, the producer profited because hundreds of thousands, if not millions, of wine lovers trusted his opinion and, in the end, this is what counts.
For those of us who work in the same sector, it is not easy to admit that someone is better than you are. In his case, I, personally, have no problem admitting it and do so with pleasure. And so allow me to raise a glass in honor of someone who inspired me for many years and who I admired despite any difference of opinion we may have had. And it is my sincere hope that he will now live this next stage in his life in serenity to finally enjoy the incredible wines he has collected over the years. This time to savor rather than evaluate them. Ciao Robert Parker.