Prosecco unique and different at the same time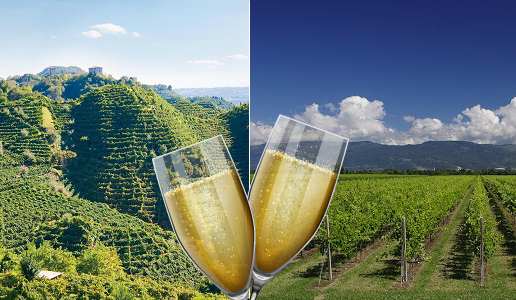 There is a risk of confusion between Prosecco DOC and Superiore DOCG and producers are wondering which is the best way to distinguish one from the other.
Paraphrasing a wonderful argument penned by Umberto Eco, who was referring, however, to Pinocchio, I will try to explain one of the questions that has occupied the Italian wine world in these past months. Recently, some Valdobbiadene producers suggested dropping the word "Prosecco" for DOCG classified wines or, in any case, from those that they produce. This because due to a collective conception about and the vast number of these wines around, Prosecco has come to mean an inexpensive, sparkling wine. And many of these wines are now even classified as DOC, and not DOCG, and come from countless vineyards on the plains of the Veneto and Friuli regions, which have much higher yields and lower production costs.
This has created a complex situation that is not easy to understand.
Some 550 million bottles are produced a year under the name Prosecco, far more than of Spain's Cava and Champagne. What worries DOCG producers in Conegliano Valdobbiadene, and rightfully so, is that this has diminished the image and lowered the standard of the Prosecco consumed. They, on the other hand, have their vineyards in the hills, sometimes very steep ones as in the case of Rive and Cartizze, with very low yields and much higher production costs. And even though their wines are on average of a much superior quality, they run a mortal risk of being dragged down by the Prosecco from the plains. In recent years, the ratio between the number of DOCG and DOC wines produced has widened significantly and is now one-to-five.
It is almost as if Gresham's Law, "bad money drives out the good", has been applied to Prosecco, or at least this is what Valdobbiadene producers fear. Thus they feel a need to distinguish themselves. And this need was explicitly stated in the proposal from the Confraternita di Valdobbiadene through its Grand Master Loris Dell'Acqua to eliminate the term Prosecco for DOCG Conegliano Valdobbiadene.
This drastic move risks, according to some, first of all Primo Franco, something similar to throwing out the baby with the bathwater. According to him, an icon in Valdobbiadene, the sea of Prosecco DOC opens the door for superior quality and more expensive wines. What is needed is to better put the question into focus because it would be unthinkable to stop using a name that is imprinted in the international collective imagination and today represents a very strong territorial "brand". Furthermore, current production regulations already allow for not using the term Prosecco for DOCG sparkling wines, as Col Vetoraz is already doing. Thus there would appear to be no need to take such drastic steps even for those in favor because it would deny producers the freedom to operate as the law currently allows.
It is difficult to judge the merit of the proposal either way, both sides have their justifications and thus it might be better to discuss the situation in a reasonable way without creating opposing factions. What is for certain is that Prosecco Valdobbiadene Conegliano, as well as Asolo wines, are those reserved for a public more inclined towards quality, while most of the DOC Prosecco is more like a "commodity" and appeals to a different market. A single name, or at least similar, for two different products. In other words, Prosecco A and Prosecco B. To better comprehend the issue, clear the mind, I opened a Grave di Stecca 2014 from Primo Franco, which is made from Glera grapes in Valdobbiadene, is one of the best wines of its kind and boasts neither a DOCG nor DOC classification. Not a bad way to distinguish itself.