Preview tastings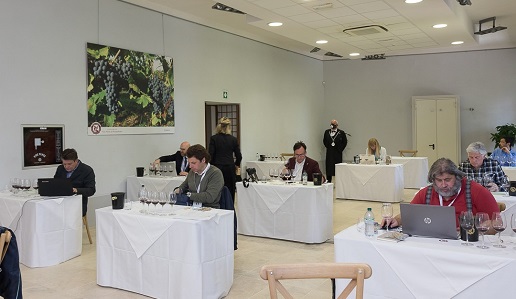 Despite countless complications, taking extreme caution and rigorously respecting all anti-Covid regulations, the more important preview tastings for the press were staged again this year: a sign of recovery and an important opportunity to compare notes.
For many years now, the leading wine producer associations throughout Italy have organized preview tastings for the Italian and international press. Modeled after what they were doing in France, Bordeaux and Burgundy, in particular, they have become an important appointment in Italy as well.
The latest edition was particularly complicated to organize for reasons you can easily imagine due to the need for extreme caution, the rigorous respect of anti-Covid regulations and so on. The efforts made by all organizers was great and, as a result, everything went surprisingly well. Needless to say, the number of participants was sharply lower because no one was able to come from the United States, China and Japan.
This year's series began with Nebbiolo Prima, in Alba at the end of March, and most likely will wind up at the beginning of June in Montefalco, for the en primeur of Sagrantino and then in Lucca, June 5 and 6, with the Anteprina Vini della Costa Toscana (Preview of Tuscan Coast Wines). In between there have been all the Tuscan previews, Chianti and Morellino di Scansano, Brunello di Montalcino, Vino Nobile di Montepulciano, Vernaccia di San Gimignano and Chianti Classico. For wine journalists and bloggers, these are very important occasions because they offer the opportunity to taste the wines of a great number of producers at the same time, which allows you to have an idea how the vintage came out and how the style of many wineries has evolved.
This year offered some very important vintages for many wines. In Montalcino, 2016 was a formidable year for Brunello and in Chianti Classico 2018 is giving results beyond expectations. The same goes for the Barbaresco from 2017, a very hot year, as well as the Barolo. These are just a few examples but they are important for those of us who write about wine as well as those who buy wine for their activities, which I hope will get back to as normal as possible as soon as possible. The previews were also important given that, for the second year in a row, it was not possible to stage the more important European wine trade fairs, ProWein and Vinitaly, which made these tastings more useful and interesting.
Another important aspect of the previews was that they allowed participants to compare notes. For me, I was able to discuss individual wines with fellow journalists, critics and sommeliers as well as hear their views on production areas, which for Italy is of fundamental importance. And I must say that, in some cases, this was very positive because there was a collaborative spirit that I had rarely seen in the past. After the complicated times we have recently experienced and which we hope, fingers crossed, are beginning to come to an end, this represented for me a sign of overall maturity on the part of wine critics and this is a good thing. A silver lining, if you prefer.
Last but not least, my sincere compliments to all the organizers, and I feel I am in a position to say this. Having organized tasting events myself, I know very well the logistical difficulties they had to deal with and all the work involved. And they all did a fine job.