Perfect wine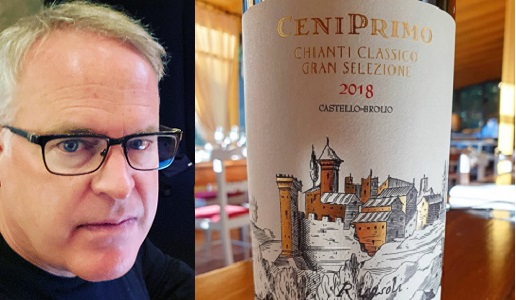 Knowing how to evaluate a wine in perspective, imagining what will foreseeably happen to that wine with the passing of time are indispensable skills to define its greatness, even by means of a score.
The famous American wine critic James Suckling has awarded a 100/100 rating to Barone Ricasoli Chianti Classico Gran Selezione CeniPrimo 2018.This was the first time a Chianti Classico has received the highest rating and is a further confirmation that Francesco Ricasoli, the estate's current owner, is back on top in the area in terms of quality and this is totally in line with his family's tradition.
It should be noted that by awarding this rating, James Suckling has defined this as a perfect wine, despite its youth. For sure he assumed a great responsibility by doing this but one of the tasks of a wine critic is to draw the attention of their followers to such wines en primeur. Among other things, Suckling is also a great expert in Bordeaux wine and for years has frequented the en primeur tastings that are organized every year there and that determine the value of certain vintages and wines which gives a heads up to sector operators so they can acquire the more prestigious wines before they come out on the market. Thus he has a vast experience in tasting very young wine and is able to properly evaluate them, almost wagering on the future.
But exactly what is a "perfect wine" and how does one define "perfection"? And how can you explain this to those who object that it is inappropriate to give such a high rating to a wine that could evolve and improve with aging? Tasting experience, the ability to imagine what will likely happen to a certain wine with age and skill in recognizing the organoleptic properties of the wine all contribute to being able to reasonably pick a winner. In the case of wine, and here I perfectly agree with Suckling, one can recognize a superstar early on.
The wine in question here is the result of a project involving the planting of the right Sangiovese clones and rootstocks for the composition of the soil of a specific vineyard. This is the third vintage of the wine to be produced, after 2016 and 2017 which were very good in their own right, and the harvest in 2018 was very favorable in the area of Brolio. From an organoleptic standpoint, the rapport between the particularly velvety and composed tannins, the typical acidity of the varietal and the excellent amount extracts in the body was truly outstanding from the start and was a clear indication of how this wine will very favorably mature over many years to come. Being able to understand and recognize this is the result of having a specific expertise in this type of wine and great tasting talent, both of which Suckling undoubtedly has.
I am, personally, very pleased with his verdict. Castello Brolio and its wines have played a fundamental role in the history of Chianti Classico and Italy as a whole. They can be considered the Chianti equivalent of the great Bordeaux Chateaux and in different eras have served as authentic reference points. Francesco Ricasoli has personally run the estate since 1993, with the technical collaboration of Carlo Ferrini, and he has restored the quality of the wines back to their previous, top level after the complicated years of the 1970s and '80s. The "cru" wines, CeniPrimo, Colledià and Roncicone, are all formidable and territorial wines that, in their own way, are "perfect". And so, hats off to Francesco Ricasoli and also to James Suckling, who has recognized this and stuck his neck out, taking a risk but doing so with foresight and competence.