My first 40 years with AIS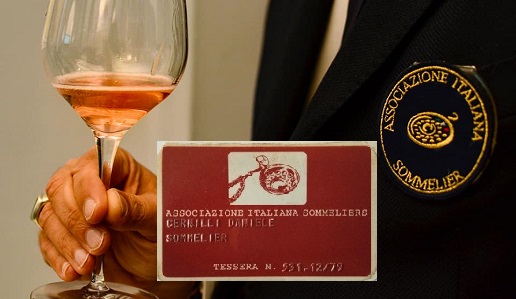 Today, the Italian Sommeliers' Association (AIS) is a large organization but back at the end of the 1970s we were few in number, even if very determined and passionate about what we were doing.
I must confess that when I pull out my old AIS membership card, number 531 issued in December 1979, I am overwhelmed with memories that remind me how much time as gone by and how many things have changed.
The Associazione Italiana Sommelier did not have many members at the time, in Rome maybe 30 people or more, and almost everyone worked in relates sectors, including many restauranteurs. Severino Severini, for an example, was an association trustee who had a restaurant in Piazza Zama, a stone's throw from my parents' home, which was the first outside the city center to obtain a Michelin star. Working for him was an old sommelier from Lombardy, Angelo Bruschi from Casalpusterlengo, who was perhaps the only one who had made a living as a sommelier, mostly in hotel restaurants, and it was he who literally taught me how to open a bottle with a professional corkscrew.
My fellow students included Elio Mariano, of the Checchino dal 1887 restaurant; Ezio and Mimma Bastianelli from Fiumicino; Alberto Ciarla, who later became AIS president; Pietro Micara from Frascati; Mario Camerucci from the trattoria Monti; Air Force General Francesco Rizzardi; Cristina Milozzi from the Ceppo restaurant; and Paola Di Mauro, who had begun making wine at Colle Picchioni in the Castelli Romani. The instructors were: the famous wine merchant Marco Trimani; Renato Sentuti of the Papa Giovanni restaurant; and Luciano Salvini, a wine salesman and great Champagne expert. Giving the final exam was Beppe Monchiero, the owner of the restaurant Daniel's in Alba, who listened to our stuttering presentations with great and almost paternal understanding.
Fresh with my first diploma and full of passion, things went pretty well for me and after a few months, Severino decided to make me an instructor and hold lessons on tasting techniques in the second course, a course I myself was taking. These were innovating times, money was scares and I was not paid for the lessons but I knew a thing or two so it all worked out. The AIS "big bosses in Milan", who were President Franco Colombani and Secretary Franco Tommaso Marchi, closed an eye and allowed me to be promoted "on the job". I must have done well because many of those who were "subjected" to my lessons went on to have brilliant careers.
My later students included Daniela Scrobogna, Paolo Lauciani, Massimo Billetto, Sandro Sangiorgi and even Franco Ricci, to whom I gave the final exam for the second course in 1983. All were members of various AIS chapters in the Lazio region. Another student of mine was Stefania Vinciguerra, who today is managing editor at DoctorWine.
I have now learned that Antonello Maietta, the current AIS president, and most of all Hosam Eldin Abou Eleyoun AIS Lombardy's president, that organized everything, that have organized, hanno decisohas decided to have me hold a lectio magistralis in November, at the Westin Palace Hotel in Milan, to mark my first 40 years as an AIS member.
Much has changed at AIS and there have been episodes that resulted in some leaving, but today there are over 40,000 members and things are going great. Knowing that I played a small role in all this fills me with immense pleasure. And I must also admit, with some emotion, that I am very grateful to this association and those who made it what it is.
Although I have been an honorary member for a few years now, up until 2007 I regularly paid my membership dues and did my best to support it while avoiding any conflict of interest with AIS' principle activities, which are first of all educational. And I think that I have always made it clear that if I am in the profession and position that I am, I owe a lot to those almost innovative courses in which we put all our heart to overcome any obstacle and while there were many obstacles, we had a lot of heart.