MMR and bias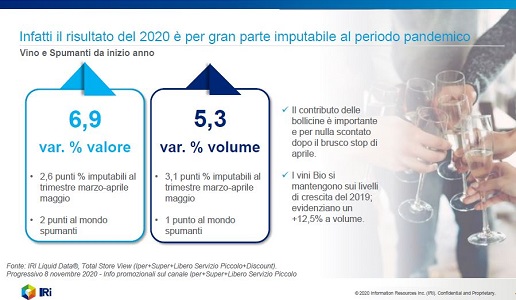 In part due to the pandemia, wine sales among the mass market retailers (MMR) have increased and it is unlikely that this trend will reversed when this difficult period is just a bad memory.
As reported by DoctorWine a few days ago, during this year's edition of Wine2Wine in Verona, which was staged virtually, IRI presented a report carried out for Vinitaly focusing on wine sales among major market retailers. The facts and figures presented, which were explicated by some of the leading beverage experts for the more well-known retail chains, were very interesting. Standing out among these was that, during these complicated past few months, there was an increase in wine sales of 5.3% in volume and 6.9% in value. This meant that wines were sold at a higher price than usually, so much so that those in the 7-10 euro price range, which for MMR outlets is quite high, leapt 13.6%.
These figures alone are sufficient to understand that things have changed and are unlikely to go back to the way they were when this difficult period is just a bad memory. Many people are getting into the habit of buying quality wine also in the major outlets and this will be a thorn in the side of all those who often express their doubts about, if not just their bias against, "supermarket wines", which they consider to be cheap and of poor quality. But this is not the case even if the prejudice against these wines has old roots.
Those who have spent time examining the rows of wines in certain supermarket chains know that they can find some very prestigious wines and this is not new. Esselunga, Ipercoop, Carrefour, Conad, and even Eataly, which is an MMR, often have an excellent selection. I was recently in a store of the Roman Pim supermarket chain where I found some surprising wines including a few from certain wineries that are not always easy to find in many wine shops. What this all boils down to is that, given the growing demand for quality wine, the leading MMP chains are working to satisfy this demand and many producers are beginning to sell to them, or are supplying wholesalers and wine shops that, in turn, supply the major chain stores.
Thus those who in a somewhat derogatory way criticize, out of principle, "supermarket wines" will more and more be surprised to find themselves proved wrong. Of course, there will always be wine lovers who will be unable or unwilling to abandon their favorite wine shop where they can exchange views with the owner much like certain book lovers prefer a small book shop to a major chain store like Feltrinelli. And given the need to meet the demand from MMR stores for quantity and variety, also in consideration of their often aggressive price policies, smaller and artisanal wineries will have to adapt, for example by forming associations or alliances, and perhaps start off by suppling stores in their areas, some of which often focus on offering local goods. What is unmistakable is that something has to change among producers and not just because of the current situation.
Related Articles