International Women's Day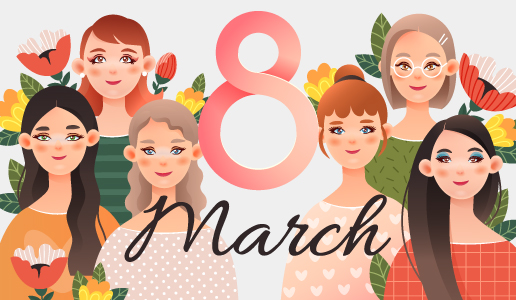 March 8 has by now become a commercial event and so if we really want to celebrate it, we should remember its true meaning.
When I was a little girl the holidays we celebrated were the religious ones, the famous "obligatory holidays". I was happy to do this because it meant I didn't have to go to school and at school we would perform theme recitals, which I liked a lot. In addition to these holidays, there were Mother's Day and Father's Day for which we would be involved in crafts projects and composing dedication letters full of good intentions.
As I grew up I became aware of other kinds of holidays, often imported, which were much more commercially orientated. We have just marked St. Valentine's Day (accompanied by Single's Day) and now we have International Women's Day, which is today.
International Women's Day (IWD) is a recognized event instituted to underscore the positive aspects of the world of women, their social, economic and political advancements, but even more the negative ones: the discrimination and violence women are still subject to in many parts of the world. What this means is that more than a celebration, today should be a day for reflection and proposing solutions to these problems. However, due to it being referred to as a "Day", even this occasion has taken on purely commercial connotations.
The world of wine is no exception and evidence of this is the rash of press releases that come out during the month leading up to March 8 which promote wines targeted especially for this occasion, considered ideal to "celebrated women", especially the bubblies, better yet if they're a rosé pink.
It is no secret that advertising has become a marketing tool that often has little to do with the quality of the product. And since we all know how difficult the current pandemic has been for the wine sector, one may wonder why polemics should be raised over an innocuous advertising campaign related to IWD?
The reason, in my opinion, is because invading one's social life (with shop window displays and in other times those in bars and restaurants), workplace (through marketing emails and press releases) and virtual world (with social media posts) with proposals to consume this or that product just to "celebrate" women, in the end risks losing the true focus of this occasion, which should not be commercial but social and ethical. Please forgive me if this all seems boring.