Contemporary wines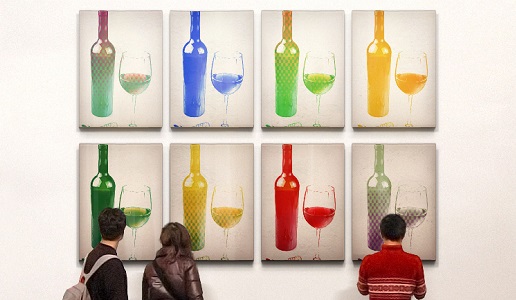 Nothing is more difficult to pin down than "contemporaneity" but often we fall in love with words and use them in the name of modernity and novelty.
"We are suspended between the infinite and the infintesimal, between the past and the future and within these aspatial and timeless spaces the conscience of each one of us exists and lives." This quote is from Guido Calogero, a 20th century philosopher of the self, and was in reference to some proponents of existentialism. It came to mind after I heard someone who writes about wine say that his field was "contemporary wines", perhaps without knowing was a slippery slope this concept was.
Nothing is more difficult to pin down than "contemporaneity", nothing changes so quickly, so much so that it changes before you can define it. What's more, if one could do so without contradicting themselves, which is practically impossible, every instant is contemporary and, as a consequence, even every wine is contemporary at the moment you drink it. Then there are styles, fads, interpretations and even technological advances which determine not so much a wine's contemporaneity as the characteristics certain wines develop over time.
"Classicism" does exist in wine and it evolves slower, as in the case, just to cite some well-known examples, of a Barolo Montefortino, a Brunello Biondi Santi and, in a way, also a La Tasche or a Dom Perignon. In these cases, the factor of stylistic continuity would appear to clash with the concept of "contemporaneity", unless one considers tradition, or even slow change, to have a contemporary value.
On the other hand, there are wines that have made evolution a stylistic factor. For example, since 1982 many Bordeaux have "transformed", in part under the influence of international critics or international markets. A Château Mouton-Rothschild from 20 years ago, for example, is quite different from a vintage 2016. And even many Super Tuscan and Chianti Classico wines, like the showcase one from Brolio or Fonterutoli, have in recent years become more drinkable and developed an agility unknown before. Then there are the Barolo and Barbaresco created during the era of the Barolo Boys, the product of a stylistic revolution, which in recent years have been making a comeback, like a dialectic synthesis, following paths not too far from tradition.
Is all this contemporaneity? It is difficult to say. For sure these are at least concepts that can be expressed in different and sometimes opposing ways. What is true is that, in many other cases and not only in the small world of wine, we often fall in love with words and use them in the name of modernity and novelty.
In other sectors this is called "fashion", a static and mathematical concept as well as an esthetic one. But for certain, being "contemporary" for many is an index of a correct and fluent interpretation of the times and, more than for certain wines, refers to one's own self-esteem which can evidently can also be pumped up this way.