Blends vs single-grape wines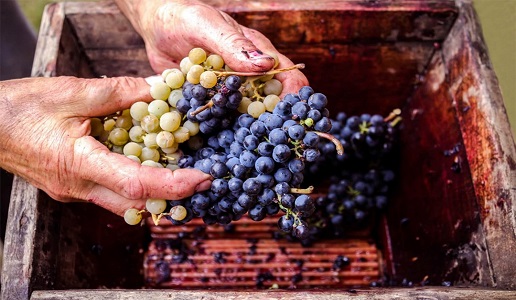 While there is no rule that establishes which is better, one or the other can better express a territory.
There is a trend among many wine lovers to prefer wines made from a single varietal as opposed to one that is the product of a blend of different grapes or wines.
There is no historic rule that clearly establishes which way of making wine is better. There are, however, some rather precise traditions and practices that tend to clarify this question. Winemaking in northern and central Europe, as well as much of northern Italy, tends to favor using only one grape "dominating" variety. This is true in the areas of Burgundy, the Loire, Moselle and Rheingau as well as much of northeastern Italy, the Langhe, northern Piedmont and Valtellina. This is because in regions where winemaking is more difficult due to environmental reasons, weather and soil conditions, there are fewer grape varieties that can adequately express themselves and they are cultivated in specific areas also for questions of tradition and culture. This is also true for more southern zones that tend to have cooler climates, like Irpinia, Abruzzo, Vulture and Rioja.
In more southern areas, or at least where the climate is more temperate, the blending of grapes or wines is more widespread. The homeland for richer and more complex blending is probably Chateauneuf du Pape, with its reds that can be made, if I'm not mistaken, from 13 different varietals. A similar situation exists for Chianti Classico, Vino Nobile di Montepulciano, Oltrepò Pavese, Valpolicella, Amarone and the reds of Piceno and Conero. Among the whites there are Soave, Orvieto, Cinqueterre and Castelli Romani. Furthermore, the oldest traditions in Collio and Colli Orientali del Friuli involve blends between what was then called Tocai (now Friulano), Malvasia Istriana and Ribolla Gialla. Last but not least is the situation in Bordeaux where all the wines are a blend of varietals or wines.
There are, obviously, exceptions to this rule, determined at times by age-old traditions, as in the case of Vernaccia di San Gimignano, or by choices dictated by a modern vision of winemaking, as in the case of Brunello di Montalcino. In Champagne, one of the northernmost winegrowing areas, the practice is to blend even if there are "enclaves" that produce excellent single varietal Blanc de Bancs and Blanc de Noir wines.
So what does all this mean? First of all, that not always and not everywhere is making wine from a single varietal traditional nor it is advisable. Second is that Mediterranean terroirs have always been better expressed through blends of varietals or wines, given that the wines that compose them tend to be neutral, non-aromatic, non-"prazinic", and through blending find a way to best express a territory in an interesting and particular way, as well as achieve an organoleptic balance that would be difficult using a single varietal. Third, if every wine has to represent a territory in a bottle, tradition can only be important. Variations and improvements can be made, as they always have, and climatic changes need to be taken into consideration, but perhaps it is best not to change too much what has been handed down from those before us.