After Brexit and other woes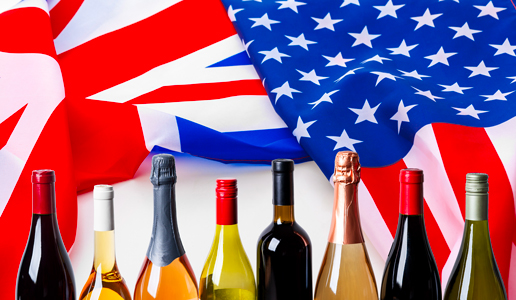 The new year has opened with a dramatic scenario: probable tariffs due to Brexit and possible tariffs from Trump create an alarming situation for Italian wine exports.
The year 2020 has certainly not begun in the best of ways. I am not qualified to comment on the most recent international developments, except to express my personal concern which I'm sure you all share. However, when it comes to the world of wine, I feel I am more than qualified to make observations and predictions and the outlook is anything but encouraging.
Should, as he has always promised to do, Boris Johnson complete Brexit, Britain's withdrawal from the European Union, then there will certainly be repercussions. Perhaps these will not be felt in the first few months, more than likely later in the year or next, but what is for certain is that this market so important for Italian exports could be subjected to further tariffs in addition to those already existing. The UK absorbs 15% of Italy's wine exports, not only an ocean of Prosecco but also many medium-to-low priced wines that could easily be replaced by those from ex-Commonwealth countries like Australia, South Africa and New Zealand and South American ones like Argentina and Chile. Higher prices for Italian wines due to additional tariffs would in many cases drive them off the market.
We will be able to get a picture of the situation there, obviously not a decisive one, next February 3 when we present the latest edition of our Essential Guide to Italian Wine in London. We will do this together with a handful of supporting producers at Brown's of Mayfair where we will organize a tasting and a few seminars dedicated to some of the best wines at the tasting. We will be talking with importers, members of the British trade press and local sommeliers and will try to get an idea of what the future holds. This will be our first "after Brexit" event and we will tell you how it went.
Storm clouds are gathering across the ocean in the United States. The threat of additional tariffs of up to 100% on European food products, and Italian wines in particular, is more than real. This has been underscored by Wine Spectator, the authoritative American trade magazine, with a number of articles and interviews, including one with Angelo Gaja, who in the US is one of the most famous and iconic Italian producers. While 15% of Italian wine exports may be at risk in Britain, in the US this percentage hits 30% for a value of almost 1.8 billion euros, which is second only to France, while in terms of volume Italian wines battle for second place with those from Spain. Although Italian wines benefit from the extraordinary support of the many Italo-American restaurants there, a sharp increase for Italian wine prices, as has been predicted, would be catastrophic and equally hurt all producers, large, medium and small.
Something similar occurred in Brazil a few years ago, an infinitely smaller market but one where Italy exports very well. Tariffs were hiked there to benefit local production and that of South America in general and Italy's market share shrank to less than a fifth of what it had been. This scenario could now repeat itself but with much graver consequences.
It should be noted that wines like Barolo, Brunello di Montalcino, Barbaresco, Amarone and Chianti Classico export between 65 and 80% of their production and close to 40% is towards the US. These are frightening numbers that underscore what is at risk for Italian wine production. And although this tempest has been more than forecast, it does not seem to faze those who should try to do something about it. This is not just the case in Italy but also France and Spain. Those who argue this will mean that Italians will once again be drinking their own wines do not know what they are talking about. For decades now the Italian wine sector has been dependent on exports to three countries, which together account for over 50%: the US, Germany and Britain. This being the case, it is obvious that it would be simply impossible to obtain that turnover from the domestic market or emerging ones. There should be no illusions about this considering that China accounts for only around 2% of Italian wine exports, a drop in the bucket despite what some may proclaim without any evidence to back it up.