Rootstocks, the 'brain' of vines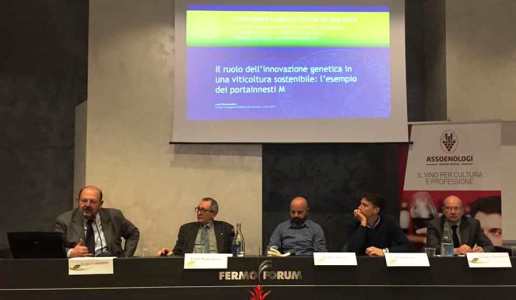 Some observations on rootstocks and, above all, the need to develop new ones that are more suited for current winegrowing.
"The importance of the rootstock is often undervalued because, in reality, it is no less decisive for the quality of a wine than the varietal that has been grafted on to it. In fact, I'd say it is the brain of the vine. Those used in winegrowing today were created between the end of the 19th and beginning of the 20th century in response to the phylloxera disaster and the time has come to create better ones, as we are doing at the University of Milan". This was the introduction Professor Lucio Brancadoro, of the agriculture department at the University of Milan, gave in his address to the conference "Sustainabile Viticulture: Reality and the Future", organized by the Marche chapter of the enologists' association Assoenologi at the Tipicità (Typicity) forum in Fermo in March.
"Rootstocks were the greatest achievement ever obtained in winegrowing in the battle against parasites but the types we use are very few, five or six, and were born to respond to the winegrowing needs of a century ago, which are totally different than those of today, beginning with weather conditions. Using them now is like putting a motor of an early 20th century car into a new model circulating today", he added.
The problem, Brancadoro observed, is that "the rootstocks created to combat phylloxera derived from only three varieties of Vitis Berlandieri and two of Vitis Rupestris, when the combinations were, in reality thousands… Today, the old rootstocks often struggle to nourish the vines, given that the availability of water is decidedly inferior to 100 a years ago. This explains why some vines age precociously and perhaps even those that produce certain great wines".
Then there is the problem of nitrogen, "that is the most important element for the vegetation of the plant and its presence and availability in the must depends, above all, on the rootstock".
Taking part in the conference by video link was Assenologi Italia President Riccardo Cotarella who recalled that precision viticulture "is nothing more than scientific knowledge applied on the ground" and that sustainable winegrowing "seeks to defend the health of the consumer and the environment at the same time and represents a sector of winegrowing that has a shared definition".
During the conference, Jacopo Cricco of Ager Milano illustrated the latest results of precision winegrowing, which included the use of satellites and drones to obtain detailed information on soils and exposures in order to create maps that will help better proportion vineyards in regard to the wines to be made and precisely prescribe all the operations to carry out in the vineyard.
The conference concluded with an address by Claudio Bortolussi of Vignetinox, which sponsored the event.