Papaccella Napoletana: an ancient vegetable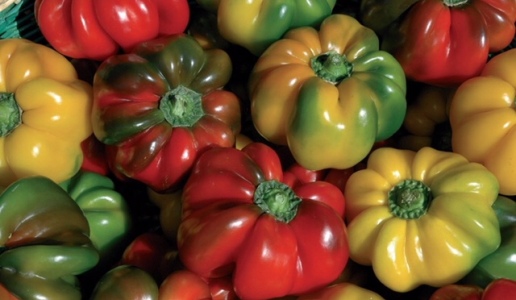 A treasure chest of flavors and traditions, papaccella – a member of the family of peppers – has an intense aroma, sweet flavor and meaty consistency that make it unique and very versatile.
Papaccella or pupaccella is a small vegetable in the family of peppers that has a flat, round shape and an intense red, green or yellow color (the latter color are slightly larger). It has an intense aroma, a sweet flavor and a meaty consistency which makes it unique and very versatile. It is an important ingredient in Campanian cuisine and, in fact, is considered an authentic institution.
From the end of July through the month of October, this colorful vegetable can be found in vegetable markets with its fresh aromas and typical herbal scent. Should you be in Naples during this period, take a stroll through the open neighborhood markets like Porta Nolana, famous for its fish and vegetables, where you can easily find papaccella. Despite the many attempts to reproduce it elsewhere, only the original Neapolitan one is accepted for use in tasty dishes, to make preserves or to conserve in vinegar. It is unmistakable because of its shape, feel and aroma that sets it apart for the various imitations. Some years ago it was at risk of extinction but then the Region of Campania intervened to recover and reproduce its original seeds and established strict regulations for the production of quality papaccella. At present, there are only six gardens recognized to produce them by Slow Food. Papaccella is also officially registered on the list of "Prodotti Agroalimentari Traditionali" (PAT – Traditional Food Produce) that protects and ensures its authenticity.
Papaccella is cultivated in the area near Vesuvius (between Accerra and Nolano) where the town of Brusciano is considered to be the most suited for it thanks to the clay soil rich in humidity that facilitates the seeds taking root. The vegetables are rigorously picked by hand.
Papaccella is traditionally uses for sweet and sour dishes but throughout the region there are a slew of variations in its preparation. It can be baked, roasted, fried and stuffed. Some variations are spicier and these are generally preserved in vinegar for use as a prime ingredient, together with cod, in the traditional Campanian Christmas dish insalata di rinforzo. Another classic dish is papaccella ripiena in which it is stuffed with tuna, anchovies, capers, pine nuts, bread without crust and small Vesuvius tomatoes.
Papaccella are increasingly being found on the menus of star-restaurants specializing in traditional Italian cuisine.
A note of interest: papaccella can easily be grown in vases and it is not uncommon to find it on terraces and balconies in Campania.