GO! The Zeni1870 Olfactory Gallery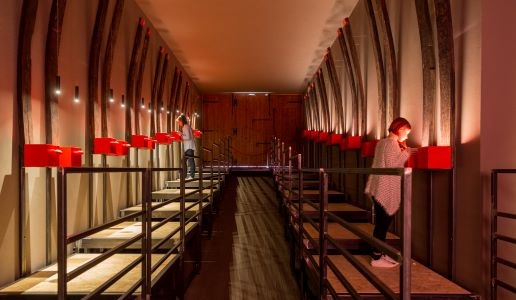 A unique sensorial experience that will immerse you in the world of wine aromas.
The historic Zeni1870 estate, situated on the panoramic Bardolino road, is today run by the fifth generation of family winemakers and continues to surpass itself. After the by-now celebrated and established Museum of Wine (some 100,000 visitors a year, mostly foreign), opened in 1991 and subsequently revamped with multimedia technologies, they have now created GO, the Galleria Olfativa.
The Zeni family manages 60 hectares of vineyards, most of which they own, on the Verona side of Lake Garda, in Bardolino. The vineyards are situated in the Verona province's five leading DOC appellations: Bardolino, Lugana, Custoza, Valpolicella and, in the extreme eastern part of the province, Soave.
They produce around one million bottles a year that are sold in Italy and exported to 40 foreign countries. Although the estate's historic and most important center is in Bardolino, the most important appellation for Zeni today is that of Valpolicella, which accounts for 50% of their production.
While there has been no lack of opportunities to expand to other wine areas, the Zeni family is primarily focused on enhancing the value of the province of Verona. The diverse terroirs in the different appellations continue to stimulate the imagination of siblings Federica, Elena and Fausto Zeni, who have never stopped experimenting nor seeking ways to relate their territory and its wines as no one has done before.
This is what led to the creation, in 2017, of Olfactory Gallery which they describe as "an experimental area unique in Italy". I tried it and can tell you the test is really worth it. There is nothing to be won here but it is fun just the same. One basically plays against themselves and I can guarantee you that once the experience is over (it takes around 20 minutes) you will feel enriched.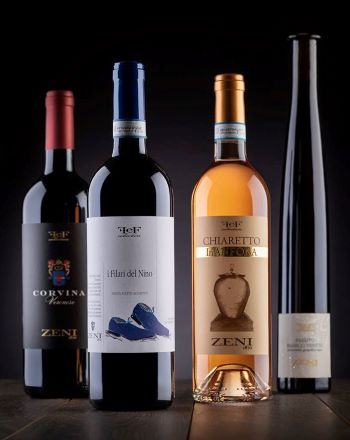 This is how it works: the location is in the underground Zeni wine cellar. This is already an amazing place but what makes it unforgettable is the décor and vaguely eccentric character (which I obviously adore). Here there is a room, which until 2017 had no particular function and was thus waiting for the right idea, which has been transformed into a gallery of aromas. Inside the gallery, in the dark, there are boxes that you literally have to "stick" your nose into in order to understand what the aroma is. Once you have taken down your notes, using a slate board with chalk they have provided (along with earphones that play relaxing music to lower your heart rate), you are ready for the challenge: guess as many aromas as possible out of a total of 14. At the end of this experience you can taste the wines from which the aromas were isolated in the GO with an additional food-wine pairing. I tasted, and before that smelled, their Bardolino Chiaretto 2017 made in an amphora, a wine that already by itself is an experience, as well as the important and bold Amarone Vigna Alte, which were a cinch to identify!
This experience is not only new and fun but it is also a studied and structured project. To ensure everything was authoritative and not only just a "tourist attraction", Elena Zeni involved top-rate professionals and creators. The only woman in the group was Paola Bottai, a perfume creator and the "nose" of the situation, who was joined by set designer Mattia Cussolotto and architects Simone Spiritelli and Carlo Fantelli (no stranger to new Zeni1870 projects). They are responsible for the concept and creation of GO, transforming Elena's dream into reality.
A final observation concerning the FeF collection of which the amphora-matured Bardolino Chiaretto is part.
Fef stands for the three siblings Federico, Elena and Fausto. When their father died he left an enormous void but he had made sure his children had clear ideas on how to move the family estate forward. He also divided the roles and responsibilities between them according to their attitudes and interests. Fausto is the head and chief enologist, Federica handles the commercial side and Elena is the creative and innovative spirit. The combination of their minds led the creation of a limited edition line. It is an authentic collection that tells the past, present and future of a family and their territory, Garda, from which all began.
Museo del Vino e Galleria Olfattiva: opening march/november
Info: Tel. +39 045 7210022 - bottaia@zeni.it
https://www.zeni.it/galleria-olfattiva/
https://www.zeni.it/degustazioni-sensoriali/
Cost for the experience: € 15 adults, € 8 children
Related Products