Dynamic Romagna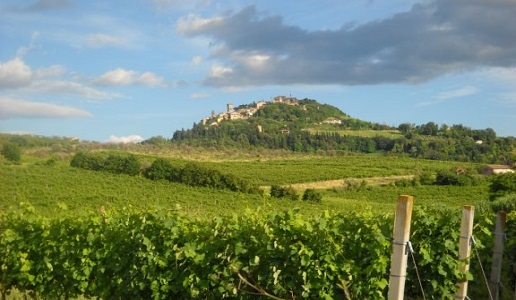 Different areas of Romagna are rapidly defining their identity based on the principle that the territory establishes the characteristics of a wine and man its style.
Two important initiatives brought me back to my beloved Romagna this past month. Unfortunately, I had to skip a third due to previous commitments. I say unfortunately because the initiative in Predappio, dedicated to wines of spungone (a type of geological formation in Predappio) would have completed a panorama of three areas that are beginning to engage in a good, even excellent communication campaigns exploiting the definition of subzones (almost municipal) which were presented to the press a few years ago. In reality, the division according to towns was not perfect and, in fact, was wrong for many towns. But the initiative was important and was one that they have not been able to duplicate in Chianti Classico, for example.
For simplicity's sake, let's say that while the various geological formations run parallel to the Emilia road, the divisions by town are perpendicular. The result is that often you find the same geological formations in different towns, which could create confusion in defining the characteristics of the various municipalities. Then there are the small enclaves, like Oriolo dei Fichi and Marzeno, and smaller ones like Modigliana, which have their own territorial and geological identity. Predappio is a different story but its most authentic identity is the so-called upper Predappio, which is above the ravines and home to the spungone that made it famous.
The message evolving in the areas of Oriolo and Modigliana is similar in content even if communicated differently depending on the public it is targeted for. In Oriolo, where producers are gathered together in the association Torre di Oriolo, which is also its headquarters, and are going through a trial stage regarding their unity of intent. The message is for the local population but outside journalists are invited to conduct tastings. In Modigliana, on the other hand, they are well-organized with all producers being members of the La Stella dell'Appennino (Star of the Apennines) association that for some years now has organized very targeted initiatives to "launch" the territory. Marzeno for now has nothing similar but it is very small and its reference point Is one of the most historic estates in Romagna: Zerbina.
The basic concept is "the territory establishes the characteristics of the wine (Sangiovese) and man defines its style". Although the focus is obviously centered on Sangiovese, both associations seek to exalt the territory with products made from other varietals that have historical local importance even if production is limited. I find this an excellent idea to further define the uniqueness of the territory to promote. The Centesimino grape in Oriolo has produced excellent results (like Traicolli from Morini), but being a difficult grape these have not been uniform. In Modigliana, Modigliana Bianco was created in line with a tradition that sees wines made from white grapes, not all the same, which had a propensity to age quite long and were distinguished by their salinity. An example: Ronco del Re from the Castelluccio estate.
Two virtuous paths that lead to new and innovative ideas for an area that has been a bit dormant in past years but that has now begun to confidently head in the right direction, which is that of a territory making a statement.