Acqualagna and its 53rd National White Truffle Fair
This year was a particularly good one for the Acqualagna white truffle and it prices have fallen. It is thus an excellent occasion to take advantage of this tasty and favorable quality/price combination.
We at DoctorWine are curious but above all gluttonous when it comes to wine and food delights. Thus when the invitation came to take part in the recent white truffle fair we immediately accepted with joy. As luck would have it, I, born in Fano, some 30km from Acqualagna in the Marche region, was chosen to cover the event.
There are only two recognized white truffle capitals in Italy: Alba, in the region of Piedmont, and Acqualagna, which is considered the younger sister. (Ed.Note: There are at least two other truffle 'capitals' in Tuscany, San Miniato and San Giovanni d'Asso, but we all know Vignadelmar ca be bias!).
The 53rd edition of the Acqualagna fair just took place and was, as always, a success with many novelties offered. While some may not think it a big deal, for a town of 4,500 inhabitants to organize well-attended and wonderful cooking shows, for example with the likes of Igles Corelli and Valeria Piccinni, to offer daily wine parings between truffles and Bianchello del Metauro DOC from the Bianchello d'Autore producers' association, inaugurate the first Italian museums dedicated to the truffle and host and care for thousands upon thousands of visitors was no small feat.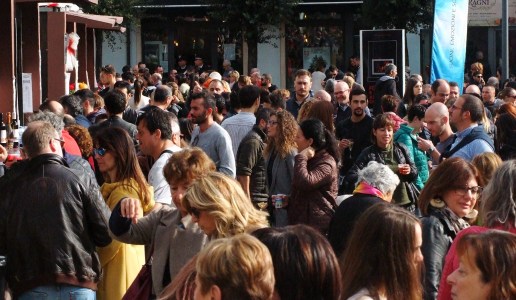 The museum is truly innovative and interactive. It is located in the same square as the birthplace/museum of ENI founder Enrico Mattei and is situated on two floors to offer both the young and old an opportunity to learn about the truffle, from its birth to it being found by dogs, with technical data, explanatory panels and soil samples that visitors can examine hands on. It is little gem.
Naturally, the main attraction of the Fair were the stands and the shops where you could acquire fresh truffles that had just been dug up or see them transformed on-site into a variety of products including cream sauces and condiments, truffles preserved in oil and combined with cold cups ad cheeses. The town's restaurants offered the possibility to taste truffles with butter on pasta, with omelets, on toast and with a host of simple recipes that properly exalt this niche product that can be found on the best tables the world over.
It is important to remember that fresh truffles, right out of the ground, can be enjoyed in Acqualagna practically all year long. In fact, the White Truffle can be harvested from the end of September to the end of December, the prestigious Black Truffle from December 1 to March 15, the Bianchetto Truffle from January 15 to April 30, and the Summer Black Truffle from June 1 to December 31. The town organizes a fair for each different variety.
Christmas markets are organized both in Acqualagna and neighboring towns which last year saw record attendances, with many visitors coming from abroad. Not too far away is the Gola del Furlo Natural State Park (3,600 hectares) as well as the splendid cities of Urbino, Fano and Pesaro. There are also a host of seaside towns offering great seafood and many wineries to visit, all well-organized on a human scale offering a quality of life difficult to find elsewhere.
I am, of course, anything but objective being a Marche native. Unfortunately, many consider the Marche to be a transit region for those traveling north to south whereas, in reality, it is a treasure chest of beauty and good things. At present, it is not overrun by mass tourism and so take advantage and visit it any time of year, you will be won over.
For consumers, this is a particularly good year: white truffles are in abundance. If you are not looking for the big truffles, which are rare and expensive, you can take home some excellent smaller ones at truly reasonable prices because:prices have nosedived over last year. My advice is to organize a short trip, even if just for the weekend, to take advantage of this tasty and favorable quality/price combination.
For further information on Acqualagna and its Truffle: www.acqualagna.com.