Electum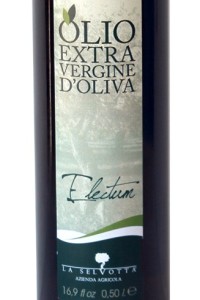 | | |
| --- | --- |
| Author | Marco Oreggia e Laura Marinelli |
| Date of publication | 04/05/18 |
| Country | Abruzzo |
| Nation | Italia |
| Price | 0 € |
Gentile di Chieti 35%, Peranzana 35%, Nebbio 30% olive varieties. Continuous cycle production system.
Light fruity. It has an intense limpid golden yellow color with definite green hues. Its aroma is ample and harmonic, with hints of artichoke, chicory and officinal herbs, especially basil, mint and parsley. Its taste is fine and rotund, with hints of lettuce, unripe tomato and banana. Bitterness and pungency are present and well balanced.
€ 12 the 0,500 lt bottle.