Tuscia on parade at the Acquolina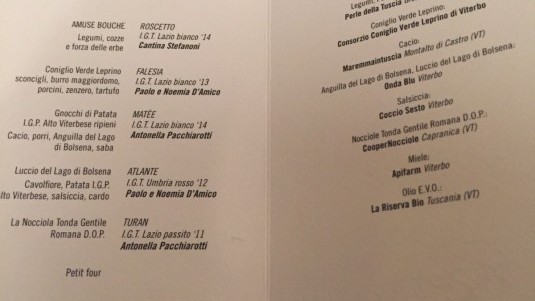 The Acquolina restaurant recently hosted Piacere Etrusco, a travelling event organized by Carlo Zucchetti with the aim of bringing typical food products from the rich area of Tuscia in northern Lazio to the tables of Roman homes. Among those taking part was Chef Angelo Troiani who for the occasion opened his award-winning kitchen to invent an ad hoc menu that exalted products from the province of Viterbo. Tuscia is a rich area full of flavors and excellent products which may seem simple but that are well-worth trying. This beginning with the 'Nocciola Tonda Gentile' hazelnut, the pearl of the province of Viterbo which confectioner Ferrero has been using for some time given that it is second only to the celebrated variety from Piedmont. The event also offered a lot of fresh-water fish, legumes and potatoes, along with some Viterbo Leprino rabbit-hare which is exclusively raised outdoors and is totally organic.
The menu began with an amuse bouche, legumes and mussels  seasoned with a bouquet of aromatic herbs that make it truly pleasing. While the appearance may have been questionable, the taste was excellent thanks to the savory herb that made it a cut above. This was paired with a Roscetto 2014 from Cantina Stefanoni that thanks to being balsamic and aromatic held up and accompanied the equally aromatic flavor of the dish. This was followed by Coniglio Verde Leprino , rabbit stuffed with sea snails paired with Falesia 2013 from  Paolo and Noemia d'Amico, a floral and mineral wine that was meaty and fresh but less 'peaty' than the previous vintage.

Next came Gnocchi di patata del  Viterbese with eel and cheese that were perfectly seasoned and accompanied by spot-on side dishes and paired with Matèe 2014 from Antonella Pacchiarotti, a bubbly personality whose estate is in the town of Grotta di Castro on the border between the regions of Lazio and Tuscany.
The main fish dish was Coregone Lake Bolsena  white fish accompanied by sausage and chard served with an Atlante 2012 from Paolo and Noemia d'Amico, a balsamic Cabernet Franc rich in spices and cacao, ripe red fruit and a fresh and soft mouthfeel in which the tannins were evident and well-integrated.
Before serving dessert, Chef Angelo Troiani offered something extra, spaghetti with red shrimp, garlic, mint and lemon , an example of the exceptional quality and simplicity of the dishes offered at Acquolina.
The tour of upper Lazio ended with Nocciola, Scots Pine cake and cookies , a creative dessert in which the tonda gentile hazelnut played the central role and was accompanied by an excellent Aleatico Passito, Turan 2011, from Pacchiarotti that has pleasing sensations of rose and wilted flowers, a sweet flavor and a nice acidity.