Trattori Falconi, meat heaven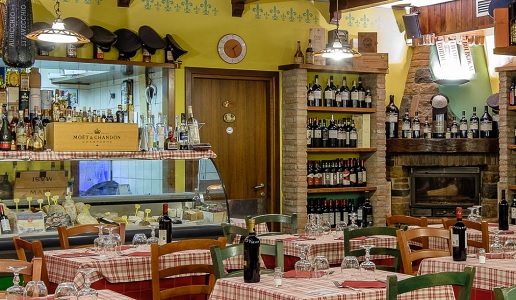 Just outside Bergamo is an "old fashioned" trattoria that offers beef from seven different Italian breeds and that's not all.
You enter through a bar, which also sells tobacco, to a door that opens into a large room dominated by a glass-door meat refrigerator, like Gallagher's, with entire quarters of beef hanging inside. Next to it is another refrigerator for cheese and all around are countess bottles of top-quality Italian and French wines. It's almost like being in Manhattan, in one of those famous New York steak houses like Gallagher's or Smith & Wollensky. But its right outside Bergamo, in the country in the small town of Ponteranica, at the beginning of the Brembana Valley.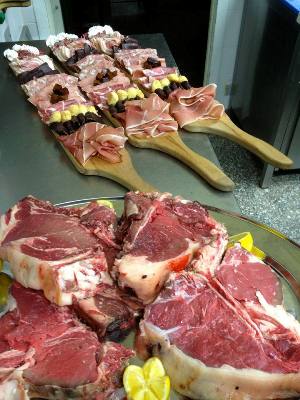 We were met by Marco Falconi, a Tuscan native but a long-time Bergamo resident who has adopted the province's customs and accent. With me were my long-time friends Silvano Prompicai (Prompi) and his partner Daniela. "I'll take you to a palce you won't believe," he promised me and he lived up to his word. I don't know if there are other places in Italy that offer beef from seven different breeds, and Italian one to boot. And I don't know who else could offer a Toro Fassone (Fassone Bull) fillet cooked to perfection as they do here. Maybe there are such places, but at Trattoria Falconi everything is "seasoned" with affectionate service and amazing wines at honest prices.
At lunch they offer a fixed, 10-euro menu because, as Marco explained, "We use the lesser cuts for stew, roulades and sauces in order to be able to offer more than dignified dishes at affordable prices, even for the old folk in town". Looking around, we did indeed see a host of seniors all in a fine mood and satisfied. This made the place even warmer and pleasing, as well as "normal".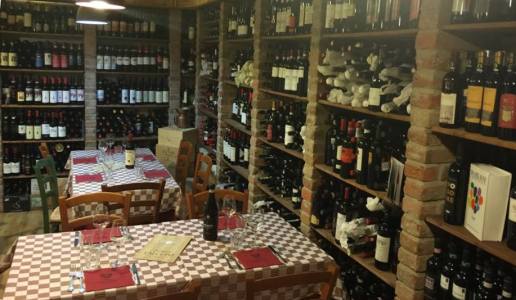 No longer being spring chickens ourselves, we fit right in at lunch but ordered à a carte. We started with a nice interpretation of Cacciucco, Tuscan fish stew to recall Marco's roots and show they also knew who to cook fish. Then cameCoppa di Testa, boiled poorman's salami, which was simply the best I have ever had. The main course was a Toro Fassone fillet that was first seared in a pan and then baked which made it soft and juicy. We also had a Sassicaia 2015 at a reasonable but still high price before Marco said: "Prompi, we have a Guidalberto 2015 on the list for 40 euros. It's almost as good as the other wine but costs a sixth of the price". Needless to say, the bottle was immediately ours and even a "Burgundy-Champagne-phile" like my friend Silvano admitted it had a "very credible Bordeaux style".
At the end of the meal the bill was 70 euros a head, but then again we ate and drank very well. A meal usually runs around 40 euros excluding wine. I usually don't go nuts over a place to eat, but I can tell you that if this one were near my house I'd be there more often than not.
Trattoria Falconi
Via Valboni, 81
24010 Ponteranica (BG)
Tel. +39 035 572236
info@trattoriafalconi.it
Closed on monday and saturday for lunch
Related Products