Ristorante Madre, something different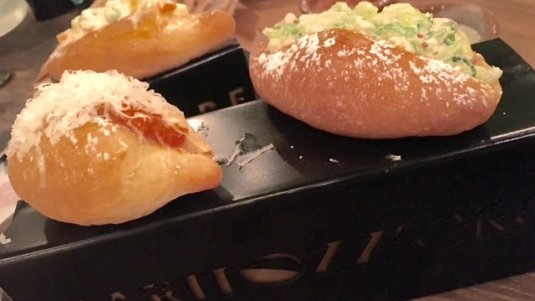 You immediately sense something is different when you enter the garden that welcomes you with a waterfall and lush hanging plants. Although this may give you the impression of being in a topical garden in some exotic location you are, in fact, in the heart of an ancient city because Ristorante Madre is inside a Rome's five-star Luxus Hotel in Largo Angelicum.
The atmosphere in the restaurant is warm, welcoming and relaxed, as opposed to many fashionable places that are cold and somewhat unnatural. It is full of light and colors and elegant without exaggeration. The winter garden and interior of the restaurant, which is more sophisticated and serious, were designed by architect Danilo Maglio.
The menu also offers something original and different. There are traditional Italian dishes as well as international ones inspired by South American cuisine served as if they were street food or designer finger food. And everything is prepared with extreme attention and passion.
The menu was created by the great star chef Riccardo di Giacinto who, together with his inseparable wife Ramona, took advantage of the remodeling of his historic restaurant all'Oro to embark on this adventure with partner Luca Colapietro, the well-known artist Biancopaco®. The hotel also hosts another Michelin-star chef, Anthony Genovese, with his fusion bar Yugo.
Great attention is paid to the prime ingredients which enrich the 'standard' dishes which are then given the unmistakable touch of the Chef. My advice is to go in a group and share as much as you can.
Begin with the "Para Comenzar",  an inviting selection of starters. These include the delicious Impasto di Pizza fritta con le sue salse (9 euros), mouth-sized pieces of fried dough to dip into sauces of tomato with oregano or sheep cheese and black pepper, something that even vegetarians can enjoy. Not to be missed are the "Maritozzo di all'Oro ", a specialty that di Giacinto brought directly from his own Michelin-star restaurant. The ones I liked the best were Maritozzo con insalata di pollo biologico (5 euros) and the Maritozzo con burrata e Acciughe del Cantabrico (5 euros).
Also on the menu is "Ceviche è Social" , a classic Peruvian dish made with lime, coriander, extra-virgin olive oil, datterino tomatoes, lemon, red onion and fresh red chili pepper and is offered in different versions. Try the Misto con pescato bianco, calamari, polipo e condiment classico (22 euros).
Among the "Pizze a base di Pomodoro" I tasted the Marinara con pomodoro pelato selezione Motticella, acciuga selezione Mardin e origano (12 euros), a simple, delicate and soft pizza made rigorously with natural sourdough that was left to rise for 24 hours. Among the more elaborated pizzas I suggest the La Calaria con filetto di tonno sott'olio, cipolla di Tropea e 'nduja di Spilinga (15 euros). There are also focacce and pizzas without tomato including the Affumicata (16 euros) made with smoked provola cheese, potatoes and chorizo de bellota. Another one to try, even in place of bread, is the Focaccia y alioli (4 euros).
As an alternative, or to continue as I did, there are the "Sal y Parrilla",  two different grilled dishes that can be cooked directly at the table. The succulent Parrilla di Carne are served on mini-barbeque grill, with the coals giving off a pleasing wood aroma, on which you can have Vitello aromatizzato con cumino, coriandolo e lime (18 euros) or di Pollo (16 euros) both served with gourmand sauces. Sal, on the other hand, is dedicated to fish and is an ancient, healthy and natural cooking method that protects the food from too much heat and was already being used in Roman times.
The Pescato del giorno su placca di sale marino (20 euros) offer small pieces of raw fish which are then cooked at the table to taste. For the vegan customer there are the "Insalata fria e contorni" including Escabeche di ortaggi (8 euros).
For dessert it is a tough choice between the various "Dulces y Pasteles"  which are all very tempting. I suggest the delicious cup with Terramisù con crema al mascarpone, terra di cacao, genovese con orzo e tuberi (9 euros) or the Churros con salsa al dulce de leche (9 euros).
The Wine List  is very basic and not long yet extremely original with the focus again on being international with unique wines from Italy, France and Germany all with honest markups. I chose a Moselle Brut Traditional Method made from only Riesling grapes by Peter Lauer (39 euros), which was very delicate, pleasing and refreshing.
The selection of Spirits  and Cocktails  is also interesting and prepared with great skill by two mixology masters, Emanuele Carlà and Cristiano Bronzini, who keep the bar open until late. Ristorante Madre, in fact, is open until 2am and starting in September will open at 7am. This means it will be open from breakfast to late at night for a total of 1,200 minutes a say. Everything is done with great attention, warmth and love as only a Madre can give.