Clotilde's magical table in Rome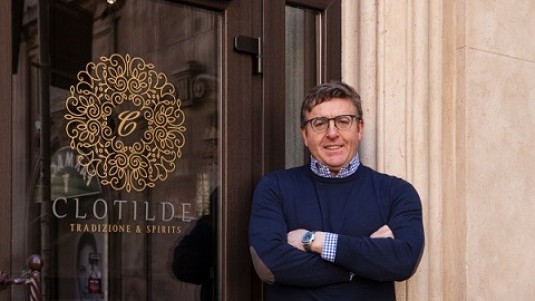 There is a new restaurant in central Rome, Piazza Cardelli 5/A, for those who like me are always on the lookout for a small, relaxing place where you can feel at home away from home and enjoy some traditional Lazio cuisine together with a nice glass of wine or an especially make a cocktail from a long list of choices.
The proprietor, Clemente Quaglia, ran the Roman restaurant Clemente alla Maddalena for twenty years and he has named his new creation after his mother, Clotilde. She was an elegant and refined woman from a bygone time who was, at the same time, modern and had that irresistible allure of glamor.
Architect Danilo Maglio redesigned the locale in a way that fully respected the location and structure of the 17th century building it is housed in. The bricks are exposed on the historic vaulted ceiling and the furnishings and lighting are reminiscent of the designs of the 1950s and '60s along with some pure geometric elements, The colors include classic mustard yellow and cobalt blue with robin's egg blue velvet and fine leather for the chairs and couches all which contribute to offering those who enter a lively and refined ambiance and atmosphere.
Clemente welcomed us from behind a large iron cocktail bar with high stools and had us sit in comfortable chairs and poufs where we sipped some sparkling wine. In this bar area you can have an aperitif or cocktail to accompany small appetizers from the kitchen like hamburger sliders with chips or a trio of supplì (mozzarella and tomato, cacao e pepe and vegetarian). Beyond a hand-crafted iron 'curtain' is the main dining room where the choice of wallpaper, the round tables set with natural-fiber tablecloths and crystal glasses create a homelike atmosphere. There are also some bare, dark-glass tables and these along with works of art by artists of the Galleria d'art Arturarte Contemporaneo add a sophisticated note of a New York bistro.
The concept of being welcomed as family continues in the kitchen which is the reign of Giorgio Baldari, a Terra Madre and Allenza Cook. The chef has created a menu for Clotilde that pays extreme attention to the choice of products: the meats come from Angelo Feroci, the fresh pasta is from Pastificio Secondi (although the stuffed pasta are homemade), the tomatoes are from Travaglini, the truffles from Savini and the rice is from Zaccaria. These prime ingredients are all from the region of Lazio, with a preference for areas around Rome, Latina and Frosinone. Top quality ingredients for alla carte menus at both lunch and dinner with traditional dishes that have been respectfully revamped and lightened.
Paolo de Falchi, who boasts a vast experience in large and prestigious establishments, runs the floor with a staff of young men and women none of whom are over 30 and all are enthusiastic and ready to meet our any need. During an evening meal we were served a rich assortment of dishes on the menu, all in small servings: pounded fillet with eggs marinated in salt; sheep cheese shavings with caviar truffle; crispy millefoglie artichokes and leeks with marinated cod; and salmon tartar. There were also cannelloni stuffed with meat and melted Parmigiano Reggiano and truffle; meatballs with tomato sauce (a worthy representative of the "trio of meatballs the old fashion way"); grilled octopus with senise peppers and potatoes with extra-virgin olive oil; and a very soft and succulent chicken with peppers.
Unfortunately, I had to end the evening there but with the idea of returning soon to try the Morolo funnel fudge with broccoli and sausage; mashed potatoes with wild herbs, cheese and pork jowl; Oxtail ravioli in the tomato sauce the meat was cooked in with pecorino sheep cheese and crispy celery; paccheri pasta with beans, mussels and pork rind and pecorino cheese; and, last but not least, breaded and friend lamb chops  with a sauce of cacao, lemon and eggs that, like a siren, called to me from the pages of the menu.
Clotilde 
Piazza Cardelli, 5/A , 5/B - 00187 Roma
Tel: +39 06 68805145
Sito: www.ristoranteclotilde.it
E-mail: info@ristoranteclotilde.it
Opening: 
Lunch:  dalle 12:30 alle 15:30
Drinks and spirits: dalle 18:00
Dinner: dalle 19:30 alle 23:00