Acquolina Hostaria, a perfect name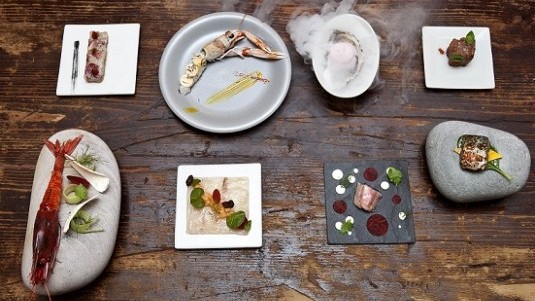 Acquolina in bocca is Italian for 'mouthwatering' and looking at the dishes offered by this Hostaria no name could be more appropriate.
The restaurant is located in the Fleming neighborhood of Rome on a side street off the Via Flaminia and not far from Corso di Francia. A staircase leads up to its entrance to restaurant and there is a veranda where you can spend a pleasing evening outside as well as an interior dining area on two levels. The mise en place is elegant, the staff efficient and the Angelo Troiani brand is always synonymous with creativity and quality. Here, however, it is the young and talented chef Alessandro Narducci who calls the shots.
This 27-year-old is skilled at transforming charm and substance into the restaurant's dishes. I was recently there on two occasions for two very different evenings. The first ended long after they closed with a lot of conversations and discussions on projects, while the other was more traditional, a dinner date for two.
These were different yet both wonderful evenings with a common leitmotif, Acquolina's seafood dishes. The meals began with a raw starter-sampler the diversity of which made it the most fun course of the meal. It is impossible to resist the 16 little plates that fill the table with different colors and aromas. And it is a tour of Italy with some foreign influences from distant and diverse cuisines, creating a voyage composed of flavors. The gambero rosso pralinato agli anacardi (red shrimp cashew praline) is quite unique and served with curry chips and a selection of raita condiments that offered a taste of India. The sashimi di palamita (bonito), with wasabi mayonnaise, sweet-and-sour beets and coriander is a homage to Japan. Italy is represented by a carpaccio di orate (seabream) with porcino mushroom, garlic sprouts and a pine sponge with pine nuts and celery. The only real difficulty with this raw sampler is remembering how to exactly pronounce the name of each of the 16 servings.
Among the other fine dishes we tasted was a tataki di ricciola (amberjack) with an encapsulated olive, reproduced without the pit through a spherification process. Don't ask me how this is done from a technical point of view, all I can say from experience is that it is a small sphere that explodes in your mouth with an olive flavor.
A truly noteworthy dish, in regard to experimenting and innovating with tradition, is the mazzacolla (giant prawn). Alessandro created this based on his grandmother's recipe for Olivier or Russian salad and changing not only the flavors but also how it is prepared and presented. A slew of vegetables are cooked in seven different ways in order to give the dish different consistencies and stimulate the palate. While his grandmother uses small shrimp, Alessandro uses giant prawn to give greater importance to the seafood element. The dish itself is divided into two parts – one warm and one cold – to resolve the temperature problem, creating a kind of puzzle with the prawns remaining hot and the salad and sauce cold.
Among the desserts is one for people like me who prefer something more salty. It is an unusual cheesecake that panders you just right with an explosion of passion fruit perfectly balanced by the fattiness of the cheese and, in a demonstration of style, it is served in three different ways: as a sorbet, a cream and a gelatin. Everything is then embellished with white chocolate 'dirt' and a marjoram gel that, together with the acidity of the passion fruit, makes this dessert a delight even for those who prefer something salty.
In conclusion: this is an excellent seafood restaurant with a fascinating and innovative cuisine that is well worth trying. This also in view of the chef's promise that many new things are on the horizon.