Volver at Porto del Gusto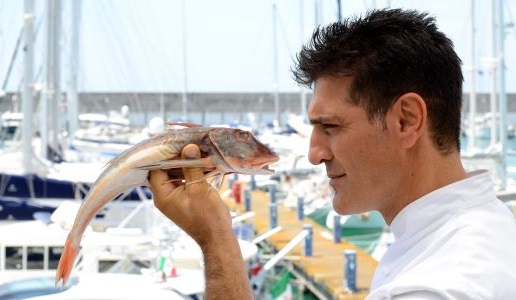 At the touristic harbor of Cala de' Medici, south of Livorno in Castiglioncello, you'll find the Volver restaurant, a lead player on the wine and food scene.
The Cala de' Medico Marina in Castiglioncello is the most important touristic harbor on the Bolgheri Wine Coast. It was founded at the beginning of the new millennium and its creators, before selling it, encouraged its maritime vocation as well as its wine and food ones with a series of initiatives, the most important of which is the Rotta del Vino (Wine Route), a food contest involving yachts, chefs and wineries. For years, Cala de' Medici was a laboratory of high cuisine subject to the evaluation of the most famous sector critics. And it is for this reason that it can be called the "Porto del Gusto" (Port of Flavor) with Volver as the lead player on the wine and food scene thanks to its chef Roberto De Franco, assisted by his wife Cecilia Lami.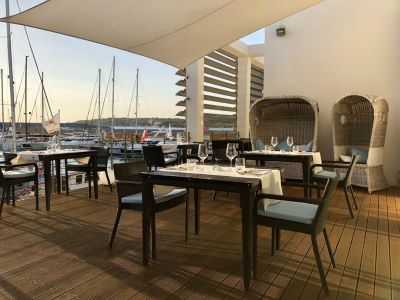 There is a lovely terrace that looks out over the masts of yachts and the sea of Punta Righini and which offers some of the best sunsets on the whole coast. Here guests feel as if they are climbing aboard the bridge a ship thanks to the teak decks and stainless steel railings.
Chef De Franco learned his craft here but soon set off to see the world. His experiences in Hong Kong, Shanghai, Singapore and Baku decidedly influenced his cuisine that, for me, is one of the best among found in modern restaurants. Although innovation is evident, it is never just conceptual and intellectual and never needs complex interpretation. The prime ingredients are treated with the utmost respect, the preparation is always recognizable, enjoyable and anchored in Italian traditions, while at the same time never commonplace thanks to the touch of lightness and esthetic grace distinctive of oriental cuisine.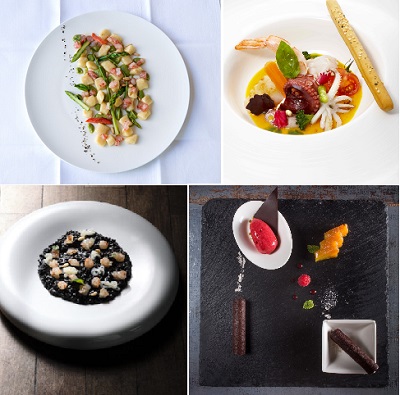 For the sake of orientation there exists a "Carta Bianca" (Carte Blanche) menu, a sequence of six dishes created by the inspiration of the chef and that depends on what is available on the market, all at a cost of 65 euros. On the à la carte menus, on the other hand, there is raw seafood, fresh catch tartare and a warm salad of shellfish and mollusks that represent the showcase starters along with some meat alternatives which include pounded Chianina beef and foie gras in Vin Santo. The list of firsts includes Gragnano and Verrigni pasta with shrimp, crayfish or fresh catch fillets as well as Acquerello rice with squid ink and pink shrimp. Second course fish offerings include steamed lobster, turbot and delicately aromatized amberjack or an original salmon 52 cooked at a low heat. For meat lovers there is beef sirloin with a reduced Bolgheri red wine sauce or ginger seasoned duck fillet. The menu also offers baked fresh catch of the day. The "sweet ideas" dessert menu has a series of puddings and custards that can be topped with tropical fruit but what really exalts the end of the meal is the 70% cacao chocolate Cigar with spicy pineapple and raspberry sorbet, better yet paired with an Aleatico Elba or a fine spirit.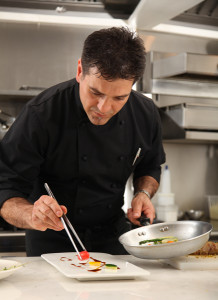 The wine list is constantly improving. The Champagne and sparkling wine selection is well-stocked and includes some unexpected domestic pearls. There are some excellent whites from the Bolgheri Coast, like Paleo Bianco and Caiarossa, along with some extraordinary Vermentino from the Apuan Alps from Giacomelli and Montepepe. Then there are prestigious Italian wines like those from Ettore Germano, Poyer & Sandri, Köfererhof, Bucci, Marisa Cuomo and Depperu. In other words, a wonderful selection to accompany fish but also for those who love reds and not just with meat. Local reds range from Castello del Terriccio to Podere Sapaio, from Caiarossa to the Carmignan-esque Tenuta di Capezzana. A year before he died, I introduced Volver to Vittorio Contini Bonacossi, a great man of both the land and sea, who was particularly impressed by the food from Chef Di Franco and enjoyed pairing it with his famous Capezzana reds. For the fish there are some excellent Italian and Burgundy Pinot Noir while for dessert you can choose between Moscato de La Spinetta, the original Merlino of Poyer&Sandri or Aleatico Elba Le Ripalte, which absolutely pairs well with the chocolate cigar.
Related Products