Sara's bubbly bistro
There's a new place to go to in Rome's Tuscola neighborhood. It is the bistro of the Mirizzi family that opened next to the historic Bomprezzi wine shop they have owned for over 60 years.
You could define this recently inaugurated establishment, located on Via Tuscolana 898 near the mausoleum of Alessandro Severo, either as the completion of a project or a dream come true.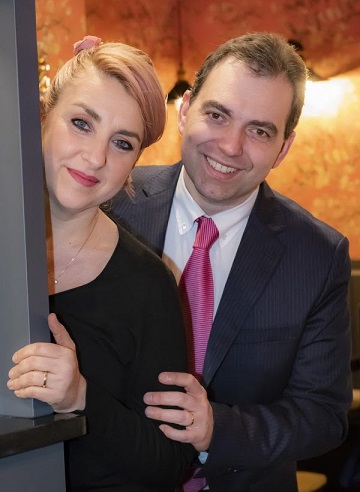 It is located right next to the historic Bomprezzi wine shop where, for over 60 years, the Mirizzi family has built a solid reputation among wine lovers with their over 4,000 wines and spirits and fine food. Given their passion for wine, the family has owned, since 1968, the Montecappone winery in the heart of the Marche region, a stone's throw from Jesi, the beautiful town that lends its name to the famous appellation Verdicchio dei Castelli di Jesi.
The undisputed driving force behind the family is Rosanna Bomprezzi who, together with sons Gianluca and Alessandro Mirizzi, runs the family enterprise with a sweet smile, immense professionalism and impeccable elegance. Women in the Mirizzi family have always played important roles and recently Sara Blandamura has carved out her own. Aside from helping her husband Alessandro at the wine shop in Rome, with courage and passion she decided to take over the small, adjoining shop that since 2008 has served wine but was run by people outside the family. Having carefully selected wines and prime-quality products for years, what could be better than to have a place to personally offer them to customers, serving fine wine and choice food at the table?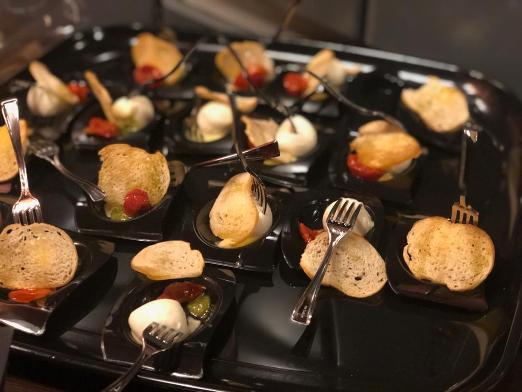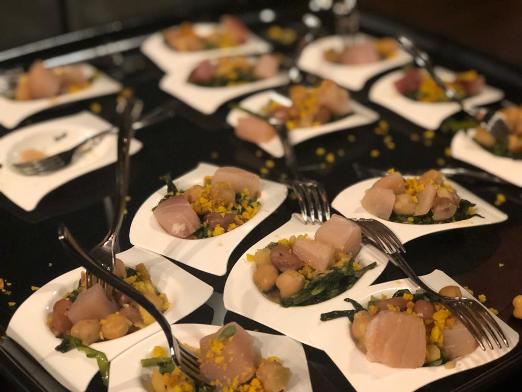 After a long restoration, she opened a small gourmet corner that each night can host only 28 fortunate souls. Its name was suggested by two people who have known her well for years, Luigi Cremona and Lorenza Vitalo, and could only be "Le Bollicine di Sara" (Sara's Bubbly). Her love for this type of wine is no secret and ranges from excellent Italian Spumante to Champagne and they are an important part of the rotating wine-by-the-glass list and bistro menu. Many still wines are also offered, first among these, of course, those of Montecappone, but it is also possible to reserve for the table any bottle available from the Bomprezzi wine shop next door and at the shelf price, an incredible and vary rare thing to the advantage of the client.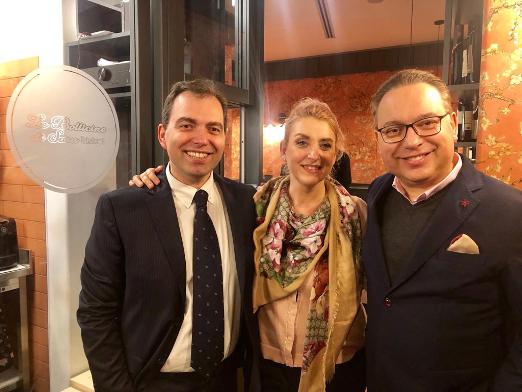 This versatile space has pink walls decorated almond blossoms similar to a painting by Van Gogh to recall rebirth, frivolity and hope. It opens at five in the afternoon with a dual function - a comforting tea room and an enticing wine bar – and remains open for dinner and the after-dinner crowd. The menu is informal, tasty and seasonal to meet the demands of any family and is complied with the consultancy of Chef Fabio Tosi. The prime ingredients include Calvisusis caviar, upstream Ventresca salmon, Spigaroli cold cuts and Carmasciando cheeses, all elaborated with care by chef and Puglia-native Domenico Abbrescia and served by the cheerful Rosella Groutas.
While it may seem trite to stress the great attention paid to selecting the prime ingredients, as Sara justly pointed out, you need experience and competence to make the right selection. And this is something that this family is not short of, having always strived to promote top quality wine and food with great love and gravitas.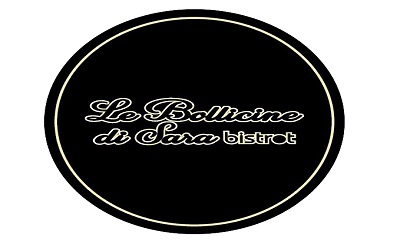 Le Bollicine di Sara bistrot
Via Tuscolana, 898 – 00173 Roma
Tel.: +39 06 5184 4727
Mail: info@lebollicinedisarabistrot.it
Web: www.lebollicinedisarabistrot.it
GIORNI E ORARI DI APERTURA:
da lunedì a giovedì dalle ore 17.00 alle 23.00
venerdì e sabato dalle ore 17.00 alle 24.00
domenica chiuso
Related Products