From Epos Wine & Food to Oliver Glowig' Barrique
Barrique is a new restaurant with renowned Chef Oliver Glowig that has opened at the Poggio Le Volpi wine estate in the heart of the Castelli Romani
On a mild, September evening we went to the Poggio le Volpi wine estate in Monteporzio Catone, in the heart of the Castelli Romani, which has a white building with spectacular terrace that from the top of a hill looks down at the vineyards that descend towards the valley and also has a breathtaking view of the city of Rome. We were greeted by owner Felice Mergè and Rossella Macchia, his companion and perfect hostess, who invited us there to present the latest project in their constant quest for beauty, quality and taste. "We are convinced that this will represent a plus for the entire surrounding area which is beautiful and often underrated," Rossella said.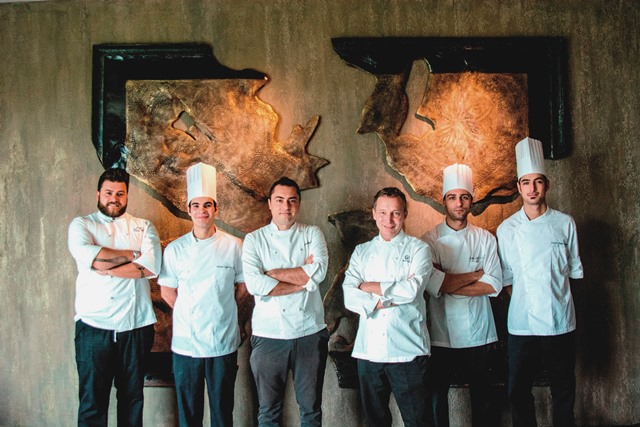 The evening began with a Traditional Method Frascati Ansonia Brut DOC and an excellent buffet offered at the elegant yet informal grill-bistro Epos Wine & Food, where Chef Daniele Corona reigns and also serves as the Resident Chef of the whole project. Here meat is king with a rich selection of select cuts (Chianina, Marchigiana, Australian Angus and Prussian beef) and an open, dry-aging display case that allows you to choose the piece you want thanks to a controlled temperature and humidity system.
Inside there is a "wall of flavor", aging chambers filled with top-quality cheese and cold cuts from Italy and abroad. These include the best Italian hams, like capocollo di Martina Franca or the tasty fiocco di nero Casertano, as well as the celebrated Spanish jamon. There are also a host of craft cheeses made locally and all the products are top-quality and selected with great attention paid to what the season offers. The vegetables are acquired from excellent local farmers, the fish is for the most part from the nearby Lazio coast and only from trusted suppliers and the fragrant bread is homemade.
But we had another surprise awaiting us in a special location: the recently completed restaurant Barrique that has Oliver Glowlig as its executive chef. It is located in the estate's barrel cellar where we led to down a walkway that ran alongside the vineyards and was lined with trees that are protected in the Parco dei Castelli Romani.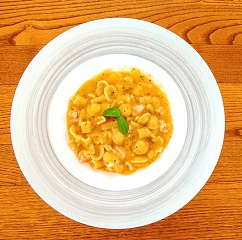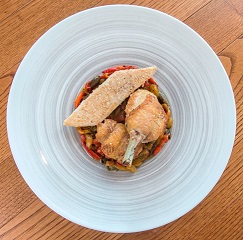 We came to a golden door through which there was a large entryway that had above it a sign with the Disney quote: "If you can dream it you can do it". Inside was, in fact, the dream that Felice Mergè made true, a place that nurtures both the body and the soul, an elegant and studied environment that plays with tones of black and gold, with grape leaves used as stencils and vines used as decoration to underscore the connection with the land. The tables have a refined design and are placed meticulously amid the barrels and bottle racks. The restaurant can seat 30 people in the main room that also has a splendid view over the vineyards.
This magnificent project was created by the Mama Design Studio of Matteo Antonelli and Andrea Miscoli with the important contribution of Luca De Felice, who made this a magical place. The landscaping was done by Roberto Ortolani of Natura e Architettura.
In this enchanted location, the German chef and Daniele Corona, his right hand for almost ten years, offer creations of his refined and studied cuisine at decidedly interesting prices made using many local products. "I am convinced that this is the ideal location to freely express my vision of food," the chef told us.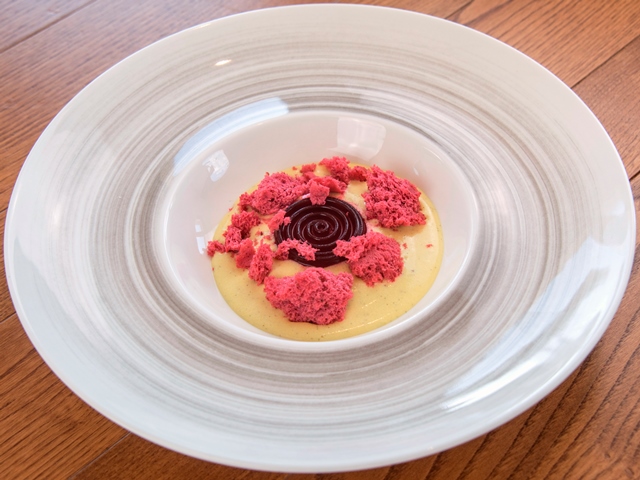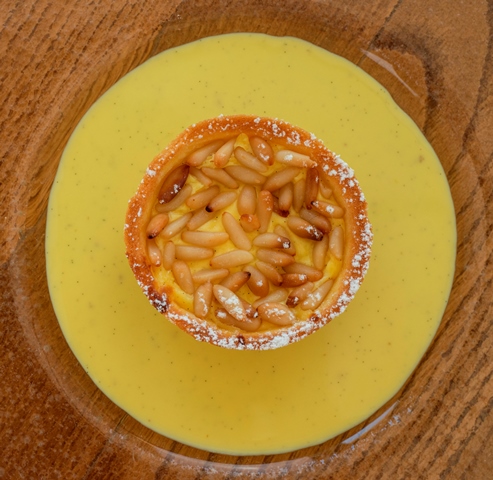 An example of this was a risotto with burnt onions, mackerel and lemon marmalade that began our meal, a dish where 'common' ingredients have become aristocratic thanks to perfect balances that included being paired with a Vette 2016 San Leonardo.
A Sussumaniello 2016 Masca del Tacco, from the estate Felice Mergè owns in Puglia, accompanied the licorice veal jowl with fennel and green apple with its authentic exuberance.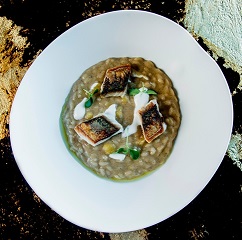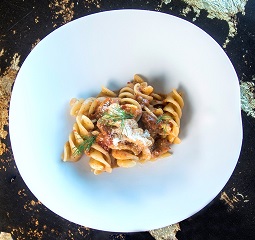 For dessert here was a milk chocolate ball with salted peanuts and blackberries created by the pastry chef Andrea Riva Moscara, who is responsible for the desserts both at Barrique and Epos. This young chef, who already has an impressive track record, spoiled us with some very light (and possibly addictive) graffe donuts to dip into fresh custard and a small, delicate pastry to end the meal.
The wines were from the list, the same for both restaurants, complied by Luca Boccoli, a top and experience sommelier. It has all the wines produced by Poggio de Volpi and its southern "cousin" Masca del Tacco as well as those from the best Italian wineries and famous international wines with particular attention prestigious labels from Champagne, Bordeaux and Burgundy, in regard to France, as well as some excellent spirits. One should not ignore Luca's advice that some of these wines have an incredible price/quality ratio. The selection rotates for wine-by-the-glass.
Related Products