Agape Ristorante, a journey of taste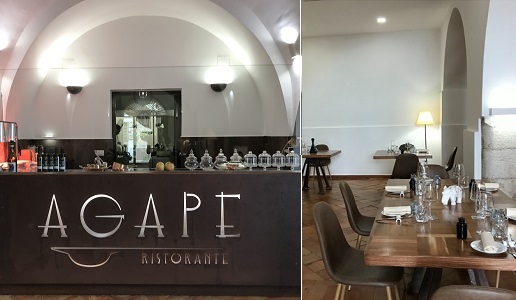 In the suggestive of Palazzo Viscardi, in Sant'Agata de' Goti, the Piscitelli siblings enchant their guests with refined cuisine and top-class service.
Up until a few months ago, going to Sant'Agata de' Goti meant visiting the splendid and old Mustilli winery, wanderng about the narrow streets of this small, picturesque town set on a tuff stone cliff and to stopping and eat at one of the typical restaurants. Today there is a new beacon lighting up this small town: Agape Ristorante.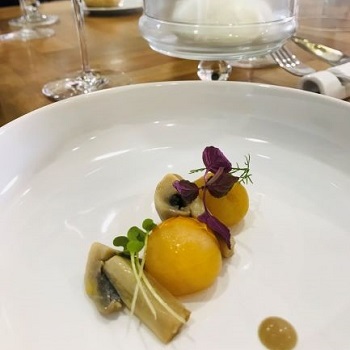 Siblings Gabriele and Gianna Piscitelli, after a long experience in the restaurant sector, have put all their passion and knowledge of cooking and hospitality into Agape Ristorante, situated in Palazzo Viscardi. Built in the 16th century in the heart of the town, this location offers a very suggestive ambiance, with typical vaulted ceilings and the original terracotta flooring. The furnishings – modern and essential – and the tables with their minimalist mise en place coexist in harmony with the historic setting. One feels truly at home at Agape, also because you eat very well with an excellent quality/price ratio.
The food is an expression of skill and knowledge of the ingredients and exemplify the transition from tradition towards innovation. Ingredients typical to the area and the region of Campania are at the base of all the dishes prepared by Gabriele, a new generation chef who can with natural ease combine – for example – fish, meat and vegetables. The result is a refined cuisine capable of acting as a bridge between ancient, traditional recipes and modern cooking methods.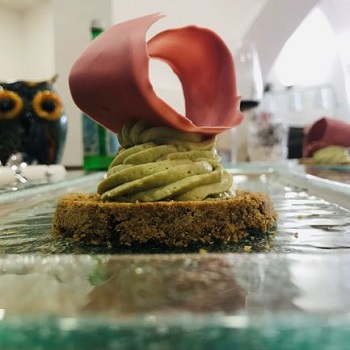 L'antipasto di Bufala Campana dop dal cuore di tartare di gamberi imperiali, prevede una leggera affumicatura a freddo con trucioli di mandorlo. Ne completa la preparazione una deliziosa composta di pomodorini gialli del piennolo. La Spuma di mortadella - con frisella santagatese e polvere di caffè - fa spazio ai Cappellacci al ragù di mare e, a seguire, al ricercato Risotto cachi e liquirizia. A chi non volesse rinunciare alla carne suggerisco l'assaggio della Pancia di maiale cotta a bassa temperatura con cavoli e porro. Tra i dessert, segnalo la Mousse al pistacchio con gelée di cachi di Sant'Agata de' Goti e biscotto all'alloro.
The starter of Bufala Campana Mozzarella DOP has at its center a tartare of imperial shrimp completed with a light, cold smoking and almond shavings and is accompanied by a delicious composition of piennolo yellow tomatoes. The Spuma di Mortadella – with Santagata frisella and coffee powder – open the way for Cappellacci pasta with a seafood ragu and, after that, the Risotto Cachi (persimmon fruit) and Licorizia. For those who cannot do without meat, I would suggest the Pancia di Maiale (Pork Belly) cooked at a low heat with cabbage and leeks. Among the desserts, try the Moussee al Pistacchio with Sant'Agata dei Goti persimmon gelatin and laurel cookies.
The floor is professionally run by Gianna, with top service provide by staff trained at the Alma International School of Italian Cuisine.
Gabriele and Gianna's years of study and experience have made a stop at Agape a journey of taste, with an imaginary thread linking favors with the stories of men and places.
The wine list is ample with mostly Campania wines along with Italian and imported ones. The selection of spirits is good.
A six-course tasting menu costs 50 euros.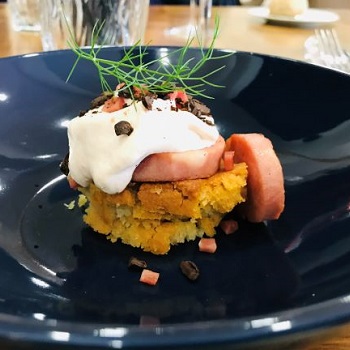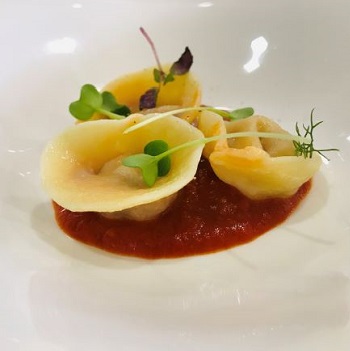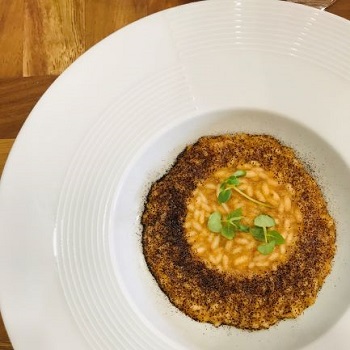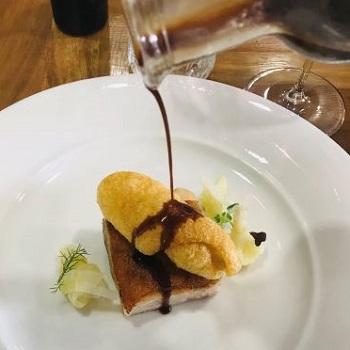 Related Products