Square spaghetti with zucchini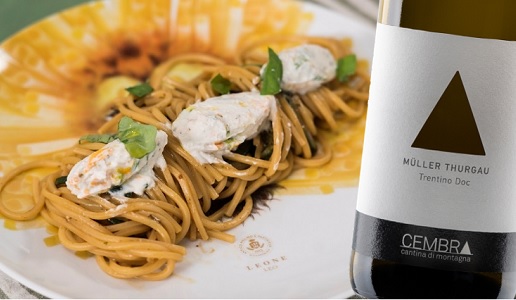 With the addition of some zucchini flower ricotta quenelle, this dish is ready to be enjoyed with a Trentino Müller Thurgau 2021 Cembra Cantina di Montagna.
Ingredients for 4 people:
360g square spaghetti, 4 zucchinis, 200g ricotta cheese, 80g ground pecorino romano, 4 garlic cloves, extra-virgin olive oil, salt, black pepper and basil.
Directions:
Peel two garlic cloves and sauté them in a pan with a trickle of EVOO and a sprig of basil. Slice the green parts of the zucchini lengthwise into strips and add them to the pan and stir-fry them for around 10 minutes. Once they are nice and crisp, remove the heat from the pan and keep warm.
Boil the pasta in abundant salted water and, in the meantime, clean the zucchini flowers, remove the inside stem and stalk and roughly chop the rest.
Sift the ricotta in a bowl, flavor half with half the ground cheese, a dash of black pepper and a trickle of EVOO. Adjust the consistency with a little of the pasta water and then add the chopped zucchini flowers and basil leaves broken up by hand.
Add the undercooked (al dente) spaghetti to the pan with the zucchini and finish cooking with a ladle of the pasta water. Mix in the rest of the pecorino together with a trickle of EVOO and some more basil leaves broken up by hand.
Put some spaghetti on each plate and top with some zucchini flower ricotta quenelle.
This recipe is from Chef in Camicia for La Molisana.

Wine to pair:
(by Stefania Vinciguerra)
Trentino Müller Thurgau 2021 Cembra Cantina di Montagna
Straw yellow color with distinct greenish highlights. Aromatic, fragrant and floral, with notes of alfalfa, white flowers and citrus touches. Very fresh and versatile, with character and pleasant drinkability.
Production area: Valle di Cembra, Trentino. Vineyards range from 700 up to 900 meters above sea level, facing east, south, west. Soil is not very deep, often rich in coarse skeleton (porphyry flakes), loamy- sandy, medium fertility in terraced slopes, fair presence of organic matter. Good biological fertility.
Grape variety: Müller Thurgau, trained to simple Trentino pergola and guyot
Harvest: by hand at the end of September.
Vinification: whole bunch pressing, fermentation and ageing in stainless steel tanks. Yield is 65 hl/ha.
Alcohol content: 12.5% vol.
Serving temperature: 8°C.
Aging potential: up to 10 years.
Recommended food pairings: suitable as an aperitif, it goes well with delicate dishes prepared with fish, cheese or vegetables.
Related Products