Torronfette® D. Barbero a mount of taste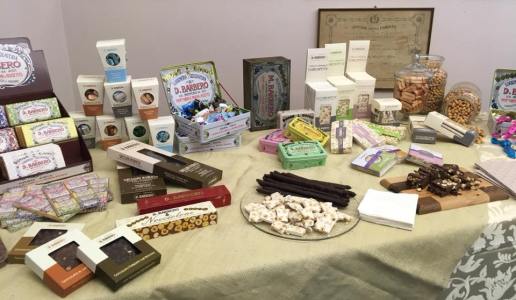 Le Torronfette from the old confectionery shop of Davide Barbero in Asti is a tasty delight to enjoy even as a snack.
Even if it may seem absurd only days before Easter, today we present a product that is usually identified with Christmas. This because we recently visited the confectionary shop of Davide Barbero in Asti where production was divided between classic chocolate Easter eggs and traditional torrone nougat, the latter of which included Torronfette (thin torrone slices).
First a little ancient history. Documents from 1838 show that Filippo Barbero was a professional confectioner and "prestinaio" (baker-cake maker) at the Annuziata church in Mombercelli d'Asti. Then in 1883 the Barbero confectionary shop was officially registered and since then seven generations have been involved in the family's craft business that is run with a pinch of entrepreneurship.
What struck me most when I visited their plant was how artisanal the products were. It was more like a big bakery than the factory one would expect for such a large operation, much of which is exported. The friable nougat is still made using the ancient Asti recipe for torrone: fresh egg whites, Piedmont UGP hazelnuts (51%) and select wildflower honey cooked for around seven hours in steam ovens. The hazelnuts are selected by hand, the ovens are manually operated and the nougat is removed by hand using large paddles. The nougat is then flattened by hand into long and narrow beech wood boxes which are then flipped over to empty the contents on marble tabletops where the torrone sits for a day before it is cut and packaged. The time is what nature needs and there is no addition of any gelatin to speed up the cooking time and thus production.
The same care is taken in making the Easter eggs and thus we can say that any Barbero product is a safe bet.
Related Products