Mozzarella Ponticorvo: an example of excellence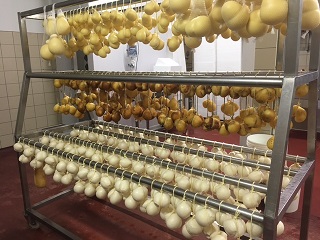 The history of this historic cheese factory on the Migliio XXV road, which connects Caiazza – a town known for its Pallagrello and Casavecchia wines and excellent olive oil – and Piedimonte Matese, in the province of Caserta, dates back to 1968. This is when Grandfather Antonio moved from the Sorrento peninsula to Alvignano to bring the tradition of making pasta filata or mozzarella cheese from his native home to a new area. At the time this new area raised only cattle, sheep and goats but buffalos were introduced to make mozzarella.
A major change came when Massimo Ponticorvo, the factory's current owner, became involved in the family business. Together with his wife Brigida, he has meticulously been making cheese for over 30 years and they have now been joined by their children: Giusy, the first-born who is responsible for sales and marketing; Anna, who handles administration and quality control; and Antonino, the youngest who works in production with his father.
Their Mozzarella di Bufala Campania DOP (PDO) is made using only the buffalo milk from herds in the area surrounding the cheese factory. It is produced using traditional methods with each ball separated by hand by two experienced workers.
Aside from their PDO mozzarella, the cheese factory is also known for its excellent buffalo ricotta, fior di latte (mozzarella made from cow's milk), scamorza, caciocavallo and provolone cheeses.
This cheese factory is an emblematic example of a healthy and successful tradition that has been handed down and revamped over time and made it an authentic model of excellence.