Favola, a fabulous mortadella from Palmieri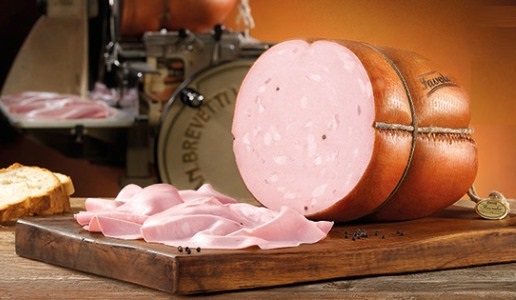 The fragrance and softness of mortadella Favola Grand Riserva from Salumificio Palmieri inspires love at first bite.
While it may seem strange, there are more things to discover at Vinitaly than just new wines. And while it is not always easy being a wine talent scout, despite all the new producers who flood into the trade fair, it is possible to discover new, quality food products thanks to wine producers and this is a case in point.
While at the stand of the Franciacorta estate Uberti and after sampling their excellent products, they had me taste this mortadella that was so delicate and tasty that it paired perfectly with their Franciacorta.
I discovered why it was so fragrant and soft on the company's website: "Favola is the first and only mortadella in the world that is cased and cooked in natural rind: a casing different from any other and patented by Salumificio Palmieri". And slow cooking in stone ovens preserves its characteristics, following a method developed by three generations of the Palmieri family of Modena.
This exquisite cold cut is much lighter than normal mortadella and thus can be consumed by those with some form of food intolerance.
Related Products