Tomasoni, Piave cheeses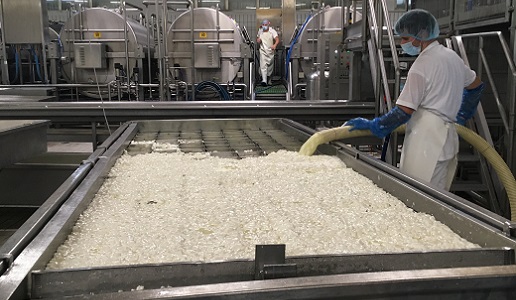 This cheese factory in the province of Treviso offers many varieties of stracchino and more, including a mouthwatering robiola.
Visiting vineyards and wineries one often runs across other productive realities with different and fascinating backgrounds and products. This recently happened to me during a visit to the Veneto region when I came across the Tomasoni family cheese factory. It was founded in 1955 by Primo Tomasoni and has expanded from generation to generation, remaining authentic and regional while at the same time adopting cutting edge technologies.
They have a close relationship with the area which has allowed them to have generational rapports with suppliers in the zone of Piave who not only carry out controls on the milk they produce but also on the health of their livestock.
The factory is now in the hands of Moreno, a creative artist as well as a cheesemaker, who is assisted by his sisters Nicoletta and Paola, who take care of administration and logistics. The third generation is already present in the family business and represented by Eva, who is not only young and determined but also trained and passionate. Among the staff are those who have been working there for over 30 years, evidence that Tomasoni offers an idyllic workplace.
Every day they process some 40,000kg of milk – cow, goat and buffalo – from 28 farms in the province of Treviso which become some 30 varieties of cheese: fresh, aged and even an organic line made with certified organic milk. The factory's core business is stracchino and they are among the founding members of the Casatella Trevignano DOP (PDO) producers' consortium, a fresh and soft cheese (a stracchino variety) that is truly exquisite and often performs very well in tasting contests. Not to be missed is their robiola, which is simply stellar and quickly sells out as soon as it is made.
Factory store hours:
Monday – Friday: 08.30 – 12.30 / 14.30 – 19.00
Saturday: 08.30 – 12.30
Related Products