The meat of the future? It's fake.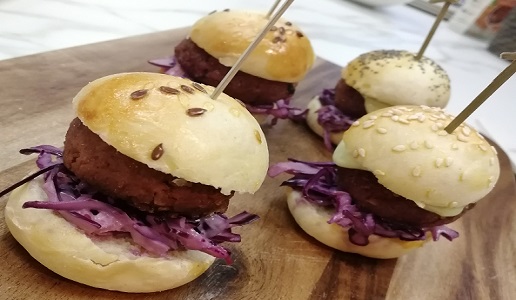 Vegetal burgers are taking over America and sending shockwaves through Wall Street. Although they have still not made it to the big supermarket chains in Italy, conditions are ripe for these "faux" hamburgers to have success in the country.
There once was a riddle that asked: "What smells like a rose but is not a rose?" Well, today we have a hamburger that seems made from beef but is not meat. What is it? A fake burger, one made from vegetables and it is extremely similar, in regard to consistency and look, to a beef burger but is produced exclusively from vegetal ingredients. These are not to be confused with the vegetarian burgers that can already be found on the market and are similar only in their shape.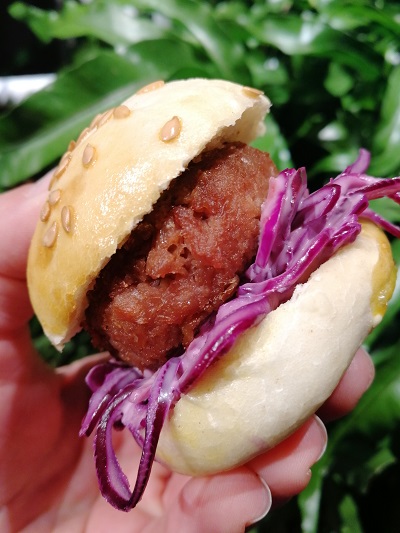 The fake burger was invented by the Los Angeles-based start-up company Beyond Meat, which was founded in 2009 by Ethan Brown and, working in collaboration with the major food chains, today has a turnover of $500 million. The burger is one of the fake meats created in response to the global demand for sustainable food and a reduction in animal meat consumption. "Since we have the technology to go to the moon, why not come up with meat made from plants to bypass the cow as the 'intermediate' stage'?", explained Lorenzo Ravagli (in the photo together with chef Sonia Peronaci during a tasting of the product), responsible for acquisitions for Welldone. Last September, this Bologna-based gourmet hamburger chain launched the vegan burger in Italy, offering it as an alternative to its meat burgers with the symbolic additional cost of 1 euro. The chain, which currently is only present in the Emilia Romagna region, also has the exclusive distribution rights for this new product for the Ho.Re.Ca (Hotel, Restaurant, Catering) sector given that it has yet to be bought by the leading supermarket chains in Europe.
This almost perfect reproduction of a beef burger is the result of complex research and development, obviously in secret, and is made, according to the label, from the following ingredients: pea protein, which gives consistency and texture; vegetable fats and, in particular, coconut oil, which "imitates" the saturated fats in beef; potato starch to give softness; beetroot extract for the blood-red color (which turns to brown during cooking due to the Maillard reaction when the sugars caramelize, enhanced by the high presence of carbohydrates); and ascorbic acid as a preservative. No other preservatives are added, in line with European regulations, and the product is sold frozen in the classic shape of a hamburger.
From a nutritional point of view, the burger has no cholesterol nor GMP products, gluten or soy but is 17% fat, of which eight are saturated, and has a high nutritional value (20% protein per 110g), which makes it a viable alternative to meat in all ways.
In other words, this is a healthy and sustainable product even if it is made – and this is sure to bother the fanatics of natural food – using advanced technology. This latter aspect is reflected in the production cost: "At present it costs 40-50% more than medium-quality ground beef", Lorenzo Ravagli said.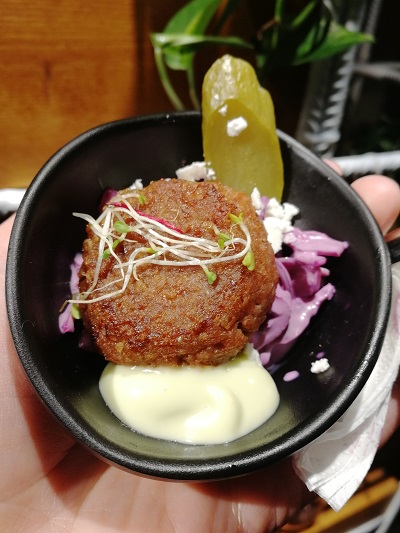 The burger is targeted for the flexitarians, a term applied to those who want to reduce their consumption of meat and fish without compromising their eating habits, but also seeks to "assault" the 30% of die-hard meat lovers by tempting them with an alternative that is equally as satisfying. In fact, abroad the products are at present placed in the meat section of supermarkets and not in the one for vegetarian foods.
Looking at it from a semiotic point of view, as suggested by university Professor Michela Deni, this is an "incremental food", in other words an innovation that does not seek to transform the life style of a society as would a "radical food" (like insects in western cuisine). Through a "fetish" product it seeks to create a new routine that does not alter normal eating habits.
This surrogate appears to be working given that, as recently reported, in America the giant fast-food chain Burger King announced it will introduce into its menus the fake or faux meat burger produced byImpossible Food, a rival brand to Beyond Meat. Nevertheless, the Los Angeles-based start-up, supported from the beginning by Bill Gates and Leonardo Di Caprio, is not afraid of competition and at the start of May was listed on the New York stock exchange in an IPO that on the first day saw the share value leap by 163% from its benchmark price. This lifted the company's value to almost $3.4 billion, compared to the pre-IPO evaluation of $1 billion. This trend appears to have held and the stock has been stable in the short term, thus making it attractive to more conservative investors, according to Teleborsa's analytical department. Thus it would appear that the "carnivorous" American public seems to be ready for this new product, let's see what happens in Italy.