Stille Nacht 2017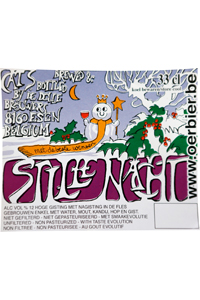 | | |
| --- | --- |
| Author | Alessandro Brizi |
| Date of publication | 12/15/17 |
| Country | Fiandre |
| Nation | Belgio |
| Price | 6 € |
In the glass it almost looks like wine, one of those old Bordeaux Clarets that made French wine history, with its reddish-brown color, amber reflections and crowning hazelnut cream 'belt' of a head of medium density. The aroma is a jubilation for the nose: ripe, candied and dry fruits – citrus, apple, pear, peach and tropical hints – together with more consistent sensations of almond, hazelnut and raisins. All this along with scents of honey, cookies, sweet spice and nuances of medicinal herbs. The mouthfeel is dense, almost sweet, caressing, at times 'winey' and drying with a subtle carbonation and a flavor that is fruity, honey-like and medicinal at the same time, persistent with aromatic and bitter sensations that balance the overall mellow character. In other words, complexity to the extreme, one which transcends any expert opinion, yet at times also wobbling, in a framework where imperfection, to paraphrase Leonard Coen, is the crack the light shines in through. Pair this with yourself during that night of light which for over 2,000 years has been Christmas.
Fermentation: High fermentation.
Alcohol content: 12%
Container: 33c bottles.