10 Luppoli Le Bollicine Dorata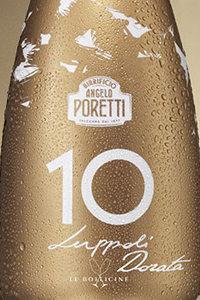 | | |
| --- | --- |
| Author | Stefania Vinciguerra |
| Date of publication | 11/17/17 |
| Country | Lombardia |
| Nation | Italia |
| Price | 9 € |
Of the two 'sisters' we preferred the Dorata, a malt beer made with ten different varieties of hops. It has a limpid color with a lovely, fine and clinging effervescence and a citrusy and floral bouquet that has a delicate note of flint. The mouthfeel is full and fresh, mellow and very drinkable.
Ideal as an aperitif, we suggest pairing it regional Italian dishes that go well with the simplicity of this beer.
8-10 euros retail for a 750cl bottle but a case of 10 bottles costs 55 euros on the producer's e-shop.
Alcohol content: 6%