Staion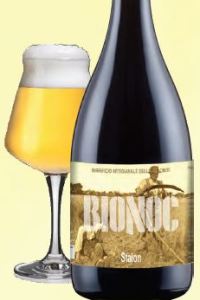 | | |
| --- | --- |
| Author | Mauro Ricci |
| Date of publication | 03/16/18 |
| Country | Trentino |
| Nation | Italia |
| Price | 11 € |
This was Bionoć's first beer and it sums up the brewery's basic approach: pure mountain water, Trentino hops and energy from renewable sources. It is made using Pils malt with a small addition of wheat, a little coriander spice and sweet Calabrian orange peel, Trentino Perle and other fine hops. The Belgian-style yeast is prepared by a company in Oderzo that selects and processes yeasts based on the needs and desires of the breweries they supply.
Staion has a color that is close to an antique gold with an abundant, creamy, very fine and persistent head.
The aromas are between light herbal notes and a little acidity that confirm the impression of freshness in
the glass. The easy mouthfeel is flowing and begins with a slight honey sensation from the malt highlighted
by a touch of acidity and dryness that leads to an aromatic bitterness in the finish that is rich and
persistent. Finesse and balance in a light body that works well with the alcohol. The precision, simplicity
and clarity make this a very lovely beer.
11 euros for a 75cl bottle.
4.50 euros for a 33cl bottle.