Mùscat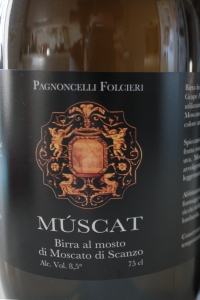 | | |
| --- | --- |
| Author | Redazione |
| Date of publication | 06/30/18 |
| Country | Lombardia |
| Nation | Italia |
| Price | 0 € |
Made using grape must, this is an Italian Grape Ale, the only existing and recognized Italian brewing style. It is made using the must from dried Moscato di Scanzo grapes (10%) with double fermentation using Abbazia, Belgian and English yeasts.
The beer has slightly veiled, a copper-red color and a very fine head. The aroma is winey with scents of grapes, red fruit (cherry, strawberry and blackberry), cookies, caramel and some light pepper. The attack of the mouthfeel is sweet, slightly acidic, with a medium body, long persistence and a delicate and fine effervescence. The finish has greater sensations of fruit and pepper made complex by the added yeasts and there is also a note of vanilla.
The alcohol content is high, 8.5%, making this a "table beer", easy to pair even with flavorful foods, second course meat dishes, aged cheese, game and even sweet pies. The label reflects the unique and strong personality of the product: a black background with golden decorations of a 19th century, ebony writing desk embellished with precious stones from Villa Pagnoncelli.