Welcomed changes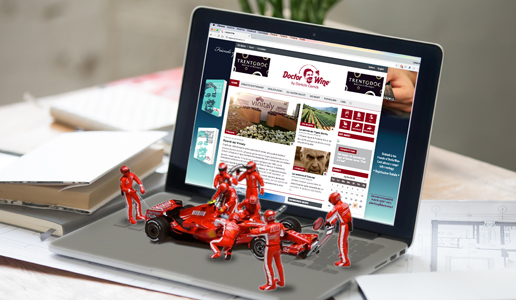 Two years after it was last modified, we - DoctorWine's Editorial Staff - have once again revamped our website in order to keep up with the times, which on the web change constantly and rapidly.
You must have noticed that for the past week we have been online with new graphics on our website, an update that, we hope, will make reading our articles easier and, at the same time, more appealing.
To a distracted eye the changes may appear to be just some esthetic modifications but I can assure you that they are more striking than they seem. For example, the tasting reviews of the same wine are placed under a single umbrella. This means that if you want to know what DoctorWine has written over the years about Sassicaia, all you have to do type in Sassicaia in the search window and all the articles where it is mentioned will be listed. Should you be only interested in the tasting reviews, it is enough to just select the "products" channel and they will all appear together.
To look up the wines of a certain producer, you select the "producers" channel and type in the name of the estate and a file will appear with all its wines that have been dealt with by DoctorWine and the related articles. The files on each producer also include directions and maps locating the winery to make it easier for you to visit the winery in person or just get an idea where it is.
These are just a few of the changes we have made and we are still working on others with the MakeYourCloud team.
Another novelty is the presence on our homepage of a window to link with our "friend" sites: Cronache di Gusto, directed by Fabrizio Carrera; Luciano Pignataro wine&food blog run by the Neapolitan journalist of the same name; and soon Vino.tv of our own collaborator Chiara Giannotti. By doing this we are trying to create a kind of network of sites that we consider to be reliable and, in a certain way, complimentary to DoctorWine but at the time different.
While the format may have changed the substance has not. By now you know our staff of collaborators, a team of reliable tasters who, we believe, write well about interesting things. We are also trying to expand the topics we cover and while the focus remains primarily on wine, sometimes there is a "deviation" into related subjects. These include foods, products we think are worthy of your attention and places to eat well without spending a fortune, along with reviews of quality extra-virgin olive oils and craft beers of particular interest. In the future we will also write about spirits and cocktails.
Like when you break in a new car, some kinks are sure to appear and so we hope you will be patient and let know about any malfunctions or problems you may encounter. On our part, we will continue to work to constantly improve "your" magazine.