The presentation of The Ultimate Guide to Italian Wine 2018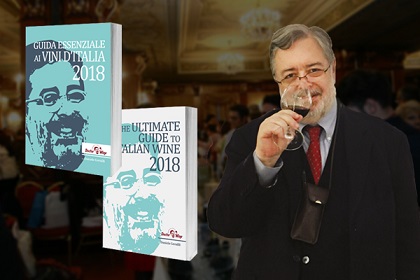 The latest edition of our The Ultimate Guide to Italian Wine will be presented to the public in Milan on Sunday, October 1, with an awards ceremony in the morning and a wine tasting in the afternoon.
The numbers are growing in fourth edition of our Guide to Italian wine with 297 wines receiving the DoctorWine 'faccino' hedcut recognition for being the shining stars of Italian production. As our readers know, this guide from DoctorWine is different beginning with its title, with "ultimate" indicating that it is not an encyclopedic overview but a selection of the best wineries and their wines .
Give the high level of quality Italian estates are producing, this selection was anything but easy. At times we were forced to make difficult yet necessary decisions to maintain the editorial guidelines established for our Guide.
The result of our efforts will be presented in Milan on October 1 and then again in Rome, on October 15.
The presentation in Milan will be held at the Hotel Principe di Savoia, Piazza della Repubblica 17. Hours: 4-9pm during which you will be able to taste a selection of wines included in the Guide many of which received prizes.
Register at: http://friends.doctorwine.it/eventi/presentazione-guida-essenziale-ai-vini-ditalia-2018-milano-01-ottobre-2017/
Should you be unable to attend the Milan event, take part in the tasting in Rome on October 15-: http://friends.doctorwine.it/eventi/presentazione-guida-essenziale-ai-vini-ditalia-2018-roma-15-ottobre-2017/
Admission to the tastings costs 20 euros for the public and 15 euros for trade operators and sommeliers (Ais, Fisar, Fis, Onav, etc.). Reduction for presale tickets will be 15 euros for the public and 12 euros for sector operators and sommeliers . Journalists and bloggers must be accredited.
The admission ticket includes:
entrance to the tasting
a copy of The Ultimate Guide to Italian Wine 2018
a tasting glass
The following producers will be present at the Milan tasting:
Amastuola
Argiano
Argiolas
Audarya
Badia di Morrona
Baglio del Cristo di Campobello
Beladea
Nicola Bergaglio
Bertani Domains
Bolla
Borgogno
Boscarelli
Bric Castelvej
Broglia
Bucci
Leonardo Bussoletti
Ca' del Bosco
Cantina Bolzano
Cantina Cortaccia
Cantina Giba
Cantina Meran Burggrafler
Cantina Terlano
Cantina Tramin
Canus
Capezzana
Caprai
Caprili
Carpineta Fontalpino
Casanova di Neri
Cascina Ca' Rossa
Castellare di Castellina
Castello d'Albola
Castello del Terriccio
Castello di Fonterutoli
Castello di Monsanto
Castello Monaci
CAVIT
Cesari
Cevico
Cleto Chiarli
Elvio Cogno
Col d'Orcia
Coppo
Antonella Corda
Cottanera
Marisa Cuomo
Cusumano
Decugnano dei Barbi
Di Meo
Dievole
Falesco Famiglia Cotarella
Fattoria Le Pupille
Felsina
Gianfranco Fino
Fiorentino
Fontana Candida
Fontanafredda
Fontodi
Fradiles
Elena Fucci
Gaja
Gioacchino Garofoli
Elio Grasso
Grattamacco
Il Colombaio di S Chiara
Il Pollenza
Jermann
Kettmeir
La-Vis
Leone de Castris
Livon
Lunae Bosoni
Lungarotti
Mandrarossa - Cantine Settesoli
Manincor
Marchesi Alfieri
Marchesi Antinori
Marchesi di Barolo
Masciarelli
Massimago
Mastroberardino
Melini
Monchiero Carbone
Monsupello
Montalbera
Monte del Fra'
Montecappone
Moser
Mosnel
Muri Gries
Fiorenzo Nada
Nicodemi
Nino Franco
Nino Negri
Palari
Paternoster
Petrolo
Pietroso
Pio Cesare
Planeta
Podere Giodo
Poggio di Sotto
Poliziano
Pravis
Querciabella
Quintodecimo
Rocca delle Macie
Ronco del Gelso
Ruffino
San Giovenale
San Leonardo
Schiopetto
Scubla Roberto
Sottimano
Specogna
Speri
Tasca d'Almerita
Tenuta di Fiorano
Tenuta San Guido
Tenuta Santa Caterina
Tenuta Sette Ponti
Tenute Bosco
Tenute Silvio Nardi
Tormaresca
Toros Franco
Torre San Martino
Umani Ronchi
Vallepicciola
Velenosi
Vespa Vignaioli per Passione
Vie di Romans
Vignamaggio
Villa Medoro
Villa Parens
Vite Colte
Elena Walch
Zyme'
....and others are joining in!
This will be a special occasion for wine lovers the world over who will be able to discover new wines and learn about them through information provided in our Guide that will be handed out on entry and is included in the price of admission along with a tasting glass.