Ten years and not feeling them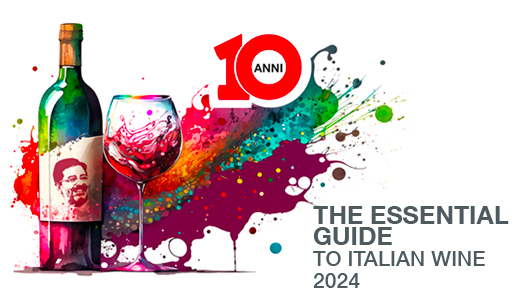 The Essential Guide to Italian Wine turns 10 with the 2024 edition and we are all very proud of this. In ten years we have been through a lot and we have grown. While not of legal age, this is still a milestone.
I still remember the first meeting that Daniele Cernilli called to inform us that our idea of producing "our" wine guide was a go. We had been discussing it on and off, almost as a game, but in reality the decision to do it was a quick one. At the time, the most important thing to do was to find a publisher big enough to get started and when we struck a deal with Mondadori we felt ready to go.
The first meeting I mentioned was, in reality, an operative one. We needed to inform our outside collaborators, find other reliable ones, "assign" various zones, establish our modus operandi (we are the only guide that seeks to limit as much as possible requesting samples, preferring to taste wines at public functions or at tastings offered by producer associations), decide on the style of our evaluations and come up with an IT system to manage the significant amount of data that would soon be streaming in. In other words, we had not even started and yet we already felt we were falling behind, because there seemed to be thousands of things to do and, even if Daniele Cernilli was irrefutably experienced in producing such guides, for the rest of us on the staff it was "the first time".
Somehow we pulled it off and in those first two years with Mondadori we learned the ropes after which we were ready to fly on our own and become our own publisher.
Ten years later, we can safely say mission accomplished. The number of estates that write to us to offer samples to taste has grown immeasurably (contact your consortium of reference), we have acquired many readers and many wine lovers come to our presentations to be able to taste the best Italian wines coming out on the market.
For this latest edition, which will be presented in Milan on the weekend of September 30-October 1 and in Rome on Sunday, October 8, we have adopted new graphics, more modern and easier to read, and we have added a new special prize: Next Generation, dedicated to young producers who are making a name for themselves with skill, preparation, passion and tenacity. And this brings to 16 the number of our special prizes, awarded to wines, estates, people and projects that have impressed us the most over the year.
There are also prizes for the best single-varietal wines, of which there are 39 this year, and the classic and most loved ones, including the 10 best wines for quality/price ratio. And then we have the wines that were awarded three "faccino" seals (those with ratings of 99 and 100/100), of which there are 13, and those with two "faccino" seals (with ratings of 98/100) of which there are 46. The single "faccino" seals are awarded to wines with ratings of 95/100 and up. They are called "faccino" (little face) because they represent Cernilli's face and thus he puts his face, in English this would be equal to "sticks his neck out", to guarantee the absolute quality of those wines for that particular vintage.
These are the backbone of our guide, which remains essential, in the sense that we prefer to employ rigorous and even drastic criteria to select estates and wines included in the guide, something not easy at all given the high quality Italian wines have achieved. This year there are 1,254 producers cited in the guide and 3,189 wines. You will discover the winners of the prizes starting tomorrow, to serve as a kind of countdown for the Milan presentation.
In the meantime, mark the dates for the tastings on your calendar:
* Milan, Hotel Principe di Savoia
Saturday September 30 – Sunday, October 1, from 2:30 pm to 7:30pm.
* Rome, Spazio Novecento
Sunday, October 8, from 2pm to 7pm for the press and sector operators; 3:30pm to 7pm for the general public.