Drinking well at reasonable prices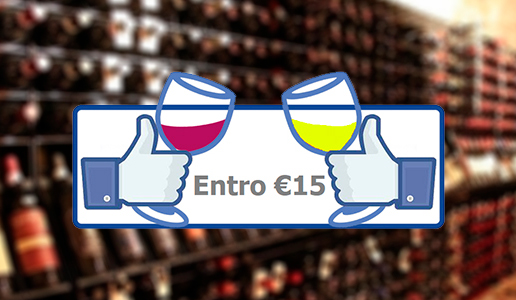 One of the best things about living in Italy is that you can drink very well without going broke, the proof of this are the many wines with the 'like' simbol selected in our The Ultimate Guide to Italian Wines: 645 wines we invite you to discover.
The question we here is whether one has to max their credit card in order to drink top quality wine. Does wine, like the restaurant sector, have its 'star' chefs who offer their creations at prices far beyond the resources of mere mortals? Because I am not rich and almost always buy my own wine, the only exception being when producers send me theirs totally on their own initiative, finding quality wines at reasonable prices is kind of a mission. While compiling our Ultimate Guide to Italian Wine, my collaborators and I were very pleased to often run across producers who offer such wines. In the Guide we selected over 645 wines that retail for 15 euros or less and among the wines we awarded prizes to, having ratings of 95/100, many are available at affordable prices. Thus with a little attention and initiative it is possible to find wines that are both formidable and economical.
Some examples? Alto Adige Pinot Bianco 2016 Wassererhof, from Christoph and Andreas Mock, is a delicious white that retails for around 15 euros. Fiano di Avellino 2016 Rocche del Principe of Ercole Zarrella and Aurelia Fabrizio costs more or less the same as does Friuli Isonzo Pinot Bianco 2016 from Mario Drius and Friuli Coli Orientali Pinot Bianco 2016 by Roberto Scubla. From the Marche region there is Trebien 2015 by Valter Mattoni and the Verdicchio dei Castelli di Jesi Massaccio 2015 Fazi & Battaglie and Riserva Serra Fiorese 2013 Garofoli. Other reasonably priced whites include Sicilia Grillo Laluci 2016 Baglio del Cristo di Campobello, Custoza Superiore Ca' del Magro 2016 Monte del Fra and Amedeo 2015 Cavalchina, Vermentino di Sardegna Camminera from Audarya and Alghero Terre Bianche Cuvèe 161 2016 Sella & Mosca. These are all absolutely wonderful whites at affordable prices. It is more difficult but not impossible to find some great reds at similar prices.
Santa Maddalena Classico 2015 Pfannenstielhof and Huck am Bach from Cantina di Bolzano are certainly excellent wines. The same goes for Cannonau di Sardegna Mamuthone 2015 from Salvatore Sedilesu, Dogliani Superiore Papà Celso 2016 by Marziano Abbona, Gioia del Colle Primitivo Riserva 2011 Fatalone, Montecucco Sangiovese Amantis 2012 Bernadette Angela Tacconi, the very famous Secco Bertani 2014, Chianti Classico Briolio Bettino 2015 from Francesco Ricasoli and the formidable Chianti Classico 2015 Dievole. Some of these wines are produced by large and famous wineries, while many others are from small producers, some lesser-known to critics and wine lovers but that deserve attention. Our Guide, like some others, takes an overall approach to Italian wine and does not just focus the 'stars' that cost a fortune and are often talked about but rarely sampled, given their price.
And sometimes, when you have had the opportunity to taste these wines, you begin to doubt whether there are really worth what they cost.