Virtuous genetic editin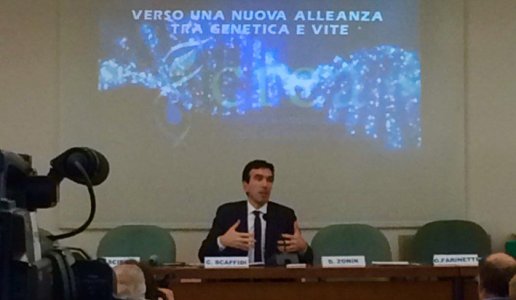 Thanks to cisgenesis, the science of editing plant genes to inactivate those susceptible to certain diseases and produce varietals that are resistant to them, in the future it may be possible to reduce the use of chemical products in the vineyard.
A few days ago it was reported that at Rome's Bambin Gesu children's hospital they were able to save the life of a child suffering from leukemia by modifying the genome of his DNA. Many scientists are convinced that cancer can be defeated by editing the human genome, to eliminate those genes responsible for various forms of the disease, and now the first concrete cases are proving this true.
I do not think anyone would criticize research and development towards this goal and their medical application in order to save the lives of many people and avoid suffering and disease. While it is true that the process is one of modifying the genome, it does not mean it will turn people into genetically modified organisms (GMOs) or something artificial. Genetic editing only makes people more resistant to particular pathologies.
While this long observation may not seem to have anything to do with the subjects dealt with in DoctorWine, the truth is that this approach can all be applied to the wine and food sectors. If rational people accept that genetic editing can benefit their health, I do not understand why there is such heated debate on its application in the wine sector. Why would one question interventions to produce varietals that are resistant to downy mildew and powdery mildew, which are serious vine diseases. What's more, genetic editing would result in an estimated 80% reduction of the use more invasive and harmful interventions in the vineyard, in particular chemical treatments against botrytis cinerea.
Cisgenesis, the genetic editing of plants, is a new branch of botany that has attracted great attention in recent years and Italy is in the forefront with research being done at the University of Milan and the Istituto San Michele all'Adige, in Trentino. These studies focus on inactivating genes susceptible to certain plant diseases, the same way as in treating human diseases.
Gene edited varietals already exist and the process has allowed them to be resistant to downy mildew and powdery mildew. The wines they produce seem to be no different than those made from "normal" grapes and so the future of winegrowing appears to be going in that direction This should also resolve in a definitive way the problem of pollution from chemical and toxic substance currently being used in the vineyard. Furthermore, the European Union's Commission responsible for the sector has officially excluded that these resistant varietals are GMOs, and this should clear up any doubts or suspicions.
This is not good news for some multinational conglomerates in the chemical sector but it is for those who believer environmental sustainability in agriculture to be imperative.
The photo is from a presentation by Raffaele Testolin of the University of Udine and the Istituto di Genomica Applicata.