Vintage 1985: Did it maintain its promise?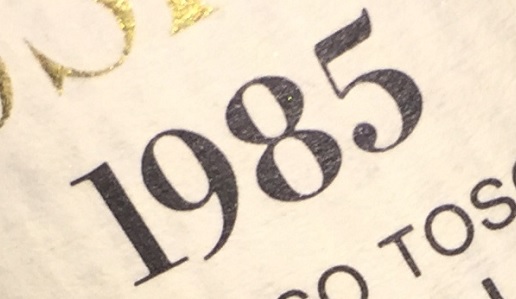 Although praised from the start, vintage 1985 in many cases did not produced wine that aged well, wines that had a splendid youth but a complicated middle age.
Over the years I have encountered various "vintages of the century" but rarely was there one everyone agreed on, at least in their early years. Vintage 1985 was probably the one that from the start generated the most enthusiasm. But as the years went by things changed and while there were some very good wines, this was not always the case and certainly not everywhere.
As sometimes happens, those vintages that started off as "ugly ducklings" turned out to be better. Many 1986 wines, especially in Bordeaux, surpassed the '85 ones, which perhaps were too quickly deemed to be great vintages for that area. Among the "star" wines, for example, the '86 Château Lafite, '86 Leoville Las Cases and '86 Haut Brion were decidedly more valid and aged better than their respective 1985 versions. There were also examples in the Langhe, with some nervous 1986 wines, the Barolo of Citrico Rinaldi above all, which are still in great form and much better now than the '85 vintages.
It was a different story for Sassicaia and the hot year produced bold and immediate versions of this wine that has become a reference point. In blind tastings, in all the wine competitions around the world, when it was almost always put alongside the great international Cabernet wines, the Italian wine quickly became a legend. My first encounter with Sassicaia '88 came when it was still maturing in barriques. It was in the spring of 1988 and I received a phone call from Giacomo Tacis, the great enologist for whom I had a certain veneration and who for some unexplained reason liked me, who wanted to have me taste an important wine.
We met at Fulvio Pierangelini's Gambero Rosso restaurant in San Vincenzo and at the table there were just me, Tacis and, of course, Nicolò Incisa della Rocchetta. The wine in question was a Sassicaia that was still not on the market and was not even labeled. "Daniele, this is an important wine, it has 4,000 polyphenols, this has never happened before. It was a dry year, we produced much less but the wine has the structure of a true champion. This may be less Sassicaia than usual, less velvety, maybe less elegant, but it has souplesse and is certainly a bomb". I quote from memory so perhaps the tone is somewhat exaggerated, but the idea was that. And the wine was extraordinary, darker than usual and it came after two minor vintages, 1983 and, above all, '84. The aromas were wrapping and very intense, the tannins were almost hypnotized by the amazing richness of the extracts and the body was warm and glyceric with an infinite persistence.
Several years later, Tacis confessed to be that he perhaps preferred the '88, which at the time of our tasting did not exist, but there was absolutely no doubt that Sassicaia 1985 was formidable from the very start. It debuted on the market not long after our tasting and became an absolute Italian wine icon, a reference point, one of those wines that fetch a very high price at all international auctions. The few bottles that remain today cost a fortune. It was also one of the few wines of that vintage that maintained its promise. In many other cases, in the Langhe and in Montalcino, the '85 wines did not age well and after an extraordinary youth had a complicated middle age. A little like those beauties that bloom too soon and remain somewhat infantile, because it was easy to have success.