The special prizes 2019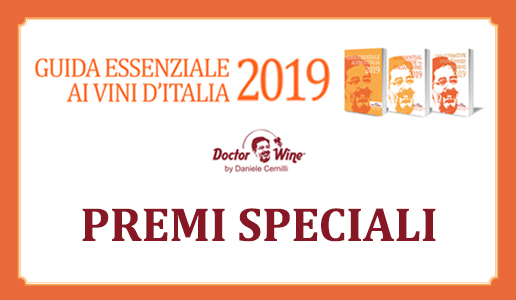 Every year the entire effort behind our Essential Guide to Italian Wine is summed up with the special prizes that are awarded to the best wines, best estates and people who deserve recognition for what they have done.
Let's take a closer look here at the prizes and who they were given to.
The Red Wine of the Year – which was given the highest rating possible in this edition of the Essential Guide, 100/100 – was Bolgheri Sassicaia 2015 Tenuta San Guido, which has just marked an important milestone in his history, its "official" 50th birthday. The first vintage presented on the market, in fact, was 1968, even if the wine had been produced beforehand for family consumption. The 2015 harvest gave us a very great version of this international icon of Italian quality wine. This Sassicaia also won the Best Italian Wine Award 2018, a prize selected by an international jury, which includes Daniele Cernilli, organized by sommelier and wine communicator Luca Gardini.
The prize for Best White Wine was awarded ex-aequo to Fiano do Avellino Stilema 2015 Mastroberardino and Solo MM15 2015 Vodopivec. The first is a new wine produced by Pietro Mastroberardino who brought back an old winemaking method used by his father Antonio, who had been behind the rediscovery and valorization the varietal Fiano. This is a modern wine that brings back the past. The second is a single-grape Vitovska wine that ferments in amphorae and matures in large barrels and is made by a great Carso (Karst) producer: Paolo Vodopivec. This is a white that successfully chases the dream of being a timeless wine.
From Trentino comes the Rosé of the Year: Graminè 2016 Longariva. This is a copper-colored rosé made from Pinot Grigio grapes in the heart of Vallagarina by Marco and Rosanna Manica, who for over 40 years have strived to transmit their love for their land through their products. Trentino is not that far from the province of Brescia which this year gave us the Sparkling Wine of the Year: Franciacorta Annamaria Clementi Riserva 2008 Ca' del Bosco. This is an estate that has always produced top-quality wines and this year they repeated their win obtained in the first edition of our guide with Annamaria Clementi Rosé.
In regard to the Sweet Wine of the Year, it is important to keep in mind that it is awarded not for being sweet but for being a wine for meditation, a special wine created for a special occasion. In this case it is the very great Vecchio Samperi Quarantennale fromMarco Bartoli, a reserve that began aging in 1978, when Marco de Bartoli brought back the perpetual blend or Solera method to produce this traditional "stravecchio" (very old) wine in Marsala, even if it is not classified as DOC.
This year we instituted a new prize, Best Debut Wine, awarded to a wine that appears in the guide for the first time. This can be because it is a new wine from a producer who is already in the guide, a wine only produced in exceptional years that has never been evaluated or a wine from a new-entry producer that astonished all of us who tasted it.
The first winner was Sicilia Alberelli di Giodo 2016 Podere Giodo, an exquisitely made wine with a gushing personality. This is an Etna red made by the renowned enologist Carlo Ferrini for his own and small personal estate.
The Best Quality/Price Wine was Cirò Rosso Classico Superiore Duca di San Felice Riserva 2014 Librandi, an excellent Calabrian Gaglioppo wine that has been a guarantee of quality and reliability for over 30 years and has always been offered at a more than convenient price. The prize for the Best Quantity/Quality Wine, reserved for quality wine produced and distributed on a large scale, went to Secco Bertani Original Vintage 2015 Bertani. This is an agile yet full-bodied wine that will appeal to those who love Valpolicella and even those who do not.
The Estate of the Year is from Tuscany as well as Umbria, Lombardy and Puglia. It is a very great classic known throughout the world (it also owns estates abroad): Antinori. From Chianti Classico with Tignanello and Badia, to Bolgheri with Guado al Tasso, from Umbria with Castello della Sala to Franciacorta with Tenuta Montenisa and from Puglia with Torremaresca, the Marchesi Antinori touch leaves no room for improvisation, then again the family has been involved with wine for centuries.
The Best Up-and-Coming Producer is Piedmont's Balbiano, a great Fresia di Chieri specialist and driving force behind the restoration of the Villa della Regina vineyard (on a hill overlooking Turin and next to the residence if Ludovica di Savoia) together with the University of Turin and CNR (National Research Council).
The Best Wine Cooperative prize went to Cantina di Bolzano which with the 2018 harvest vintage inaugurated a brand-new headquarters that epitomizes eco-sustainability and has a low impact on the landscape. It is a true splendor that significantly contributes to achieving the highest quality, something this fundamental Alto Adige cooperative has always been known for.
The Enologist of the Year is Beppe Caviola, a winemaker who, as a good Piedmont native, does not like to be in the limelight but with his serious and professional work contributes to producing many outstanding Italian wines.
The Prize for Sustainable Winemaking was awarded to Marco Casaolanetti, the "prophet" of small Piceno winemakers, the so-called "invisible ones". He is a great interpreter of a method of winegrowing that is extremely respectful of the environment and winemaking that is as non-invasive as possible. Together with his wife, Eleonora Rossi, with whom he ideally shares this prize and merit, he is undoubtedly a leading protagonist on the region's winemaking scene. This also thanks to his ceaseless quest for quality that incudes vineyards with a density if between 22,000 to 40,000 plants per hectare but with an infinitely low yield and an ever more refined use of wood. Marco and Eleonora also deserve credit for having rediscovered, developed and expanded the cultivation of the old varietal Bordò, a grape of either the Grenache or Cannonau family that for years had practically disappeared from Piceno.
The Marche region also gave us the winner of the A Life for Wine prize that we gave to Massimo Bernetti, the man behind the Umani Ronchi winery but above all a clear-headed and talented entrepreneur in the national wine sector. In recent decades he has been able to enhance the value of his estate in a most efficient way as well as relaunch wines like Verdicchio dei Castelli di Jesi and Rosso Conero as few other have. He is an authentic "founding father" of winemaking in the Marche region and beyond.